Does Tomorrow Ever Die?: Reading Literature as Franchise or, Predicting the End of James Bond
Posted on 2018-05-02 in Events
May 9, 2018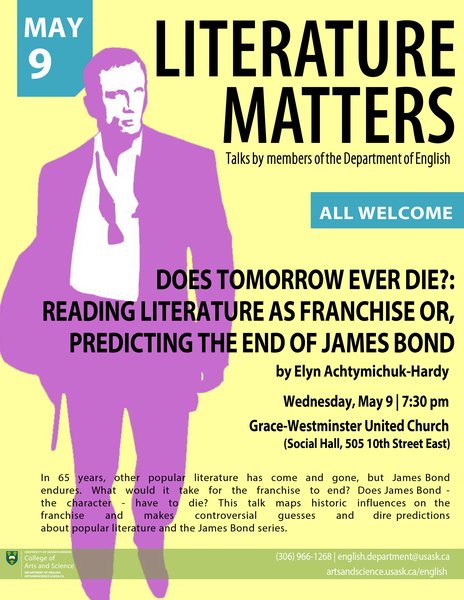 All are welcome to the May 9 Literature Matters talk by Elyn Achtymichk-Hardy!
Literature Matters
Talks by members of the Department of English
Does Tomorrow Ever Die?:
Reading Literature as Franchise or,
Predicting the End of James Bond
by Elyn Achtymichuk-Hardy
Wednesday, May 9, 2018
7:30 pm
Grace-Westminster United Church
(Social Hall, 505 10th Street East)
In 65 years, other popular literature has come and gone, but James Bond endures. What would it take for the franchise to end? Does James Bond - the character - have to die? This talk maps historic influences on the franchise and makes controversial guesses and dire predictions about popular literature and the James Bond series.