CMRS is a research community of faculty, friends, and students at and beyond the University of Saskatchewan. We support a wide range of faculty research projects, collaborative and interdisciplinary research, and student research.
One of our strengths is the close relationship between research and teaching, for example in core courses such as CMRS 333, Exploring Medieval and Early Modern Manuscripts; CMRS 402, Directed Research; CMRS 403, Analysis and Public Exhibition of Cultural Artifacts; and CMRS 433, Advanced Manuscript Studies.
CMRS Research in the News
Major Publications
Frank Klaassen, Making Magic in Elizabethan England: Two Early Modern Vernacular Books of Magic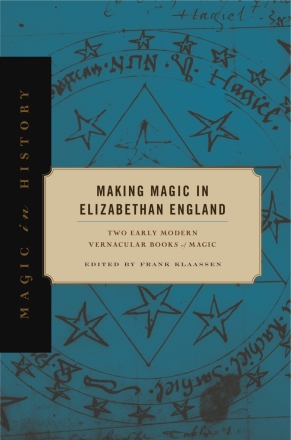 Penn State University Press, 2019
This volume presents editions of two fascinating anonymous and untitled manuscripts of magic produced in Elizabethan England: the Antiphoner Notebook and the Boxgrove Manual. Frank Klaassen uses these texts, which he argues are representative of the overwhelming majority of magical practitioners, to explain how magic changed during this period and why these developments were crucial to the formation of modern magic.
The Boxgrove Manual is a work of learned ritual magic that synthesizes material from Henry Cornelius Agrippa, the Fourth Book of Occult Philosophy, Heptameron, and various medieval conjuring works. The Antiphoner Notebook concerns the common magic of treasure hunting, healing, and protection, blending medieval conjuring and charm literature with materials drawn from Reginald Scot's famous anti-magic work, Discoverie of Witchcraft. This edition painstakingly traces how the scribes who created these two manuscripts adapted and transformed their original sources. In so doing, it demonstrates the varied and subtle ways in which the Renaissance, the Reformation, new currents in science, the birth of printing, and vernacularization changed the practice of magic.
Illuminating the processes by which two sixteenth-century English scribes went about making a book of magic, this volume provides insight into the wider intellectual culture surrounding the practice of magic in the early modern period.
---
Gordon A. Jensen, The Wittenberg Concord: Creating Space for Dialogue
Lutheran Quarterly Books, 2018
One of the mostly forgotten gems of the sixteenth century Reformations is the Wittenberg Concord. Signed in 1536 by representatives of evangelical southern German imperial cities and territories and the Lutherans, the dialogue that led to the concord provided space for the participants to have a meaningful dialogue that led to the recognition of each other's understanding of the sacraments as orthodox. This was remarkable, given the very public failures at Marburg in 1529 and Augsburg in 1530. The lack of agreement threatened the unity of the evangelical estates and made them, along with the Reformation teachings, vulnerable to attack by the Holy Roman Empire and the Roman Catholic Church.
The dialogue participants created enough space in their own understandings of the sacraments of baptism, absolution, and the Lord's Supper to allow the agreement to occur -- and function reasonably well, at least until the beginning of the Thirty Years War in 1618.
The final two chapters explore how this concord has impacted the church since its acceptance, and how the lessons learned from this dialogue can assist churches today in providing healthy spaces for ecumenical dialogue to discuss controversial issues.
---
Tracene Harvey, Julia Augusta: Images of Rome's First Empress on Coins of the Roman Empire
Julia Augusta examines the socio-political impact of coin images of Augustus's wife, Livia, within the broader context of her image in other visual media and reveals the detailed visual language that was developed for the promotion of Livia as the predominant female in the Roman imperial family.

The book provides the most comprehensive examination of all extant coins of Livia to date, and provides one of the first studies on the images on Roman coins as gender-infused designs, which created a visual dialogue regarding Livia's power and gender-roles in relation to those of male members of the imperial family. While the appearance of Roman women on coins was not entirely revolutionary, having roughly coincided with the introduction of images of powerful Roman statesmen to coins in the late 40s BCE, the degree to which Livia came to be commemorated on coins in the provinces and in Rome was unprecedented. This volume provides unique insights into the impact of these representations of Livia, both on coins and in other visual media.
---
Michael Cichon and Yin Liu (eds.), Proverbia Septentrionalia: Essays on Proverbs in Medieval Scandinavian and English Literature
Proverbia Septentrionalia examines the uses of the proverb in the medieval cultures of northern Europe, and in particular how it is employed in literature and in non-fictional writings. The discipline of paroemiology, or the study of proverbs, recognizes their origins as often preceding the literate stage of societies. In fact, they must have made up a significant element in that formulaic framework by which knowledge and wisdom were fixed and transmitted generationally in the communities of pre-literate humanity. Proverb texts have, and indeed may be defined by, their own generative structure, the presence of which in texts incorporated in poems and stories marks such passages not merely as instructive in themselves, but also as resonating with accepted communal wisdom in ways that can help us understand the works in which they occur.
Includes:
An Introduction by Michael Cichon, Richard L. Harris, and Yin Liu
"Some Paroemiological Approaches to Studies in North Germanic Medieval Literatures and Cultures" by Richard L. Harris
"Proverbs, Authority, and Rhetoric in Pearl and Patience" by Corey Owen
---
Brent Nelson (ed.), Utopia for 500 Years
 Special issue of Renaissance and Reformation, Summer 2018
Guest editor Brent Nelson:
"The articles in this collection grew out of papers presented at a conference on the theme of 'Utopia for 500 years,' held at St. Thomas More College on the University of Saskatchewan campus in September 2016. On the occasion of the quincentenary of the publication of More's Utopia, an international group of scholars gathered to consider the cultural status and enduring resonance of this influential work and its central conception, the idea of a utopia, in all of its rich complexity. This collection is therefore interested not only in the long life of Utopia as a work of literature, but also its Utopia, and hence, utopia as a persistent generic and cultural topos."
Contributor Daniel Regnier, "Utopia's Moorish Inspiration: Thomas More's Reading of Ibn Ṭufayl":
"A promising but neglected precedent for Thomas More's Utopia is to be found in Ibn Ṭufayl's Ibn Ḥayy Yaqẓān. This twelfth-century Andalusian philosophical novel describing the self-education and enlightenment of a feral child on an island, while certainly a precedent for the European Bildungsroman, also arguably qualifies as a utopian text. It is possible that More had access to Pico de la Mirandola's Latin translation of Ibn Ḥayy Yaqẓān. This study consists of a review of historical and philological evidence that More may have read Ibn Ḥayy Yaqẓān and a comparative reading of More's and Ṭufayl's two famous works. I argue that there are good reasons to see in Ibn Ḥayy Yaqẓān a source for More's Utopia and that in certain respects we can read More's Utopia as a response to Ṭufayl's novel."
---
Abraham Akkerman, Phenomenology of the Winter-City: Myth in the Rise and Decline of Built Environments
This book explores how the weather and city-form impact the mind, and how city-form and mind interact. It builds on Merleau-Ponty's contention that mind, the human body and the environment are intertwined in a singular composite, and on Walter Benjamin's suggestion that mind and city-form, in mutual interaction, through history, have set the course of civilization. Bringing together the fields of philosophy, urbanism, geography, history, and architecture, the book shows the association of existentialism with prevalence of mood disorder in Northern Europe at the close of Little Ice Age. It explains the implications of city-form and traces the role of the myths and allegories of urban design as well as the history of gender projection onto city-form. It shows how urbanization in Northern Europe provided easier access to shelter, yet resulted in sunlight deprivation, and yielded increasing incidence of depression and other mental disorder among the European middle-class. The book uses the examples of Kierkegaard, Nietzsche, Dostoevsky and Kafka, to show how walking through the streets, squares and other urban voids became the informal remedy to mood disorder, a prominent trait among founders of modern Existentialism. It concludes by describing how the connection of anguish and violence is relevant to winter depression in cities, in North America in particular.
Awards and Grants
The Social Network of Early Modern Collectors of Curiosities
Brent Nelson has been awarded a SSHRC Insight Grant to follow the movement of collected curiosities through networks of exchange, studying how these objects were understood and regarded by those who would form the foundations of our modern museums.
---
Intercultural Exchange in the Germanic Migration Period, Kent, England
Courtnay Konshuh has been awarded a SSHRC Insight Development Grant to study the material culture of Kent, UK, from 500 to 800. The goal is to examine the different cultural influences in the region, which was essentially the trading gateway from the continent to the rest of Britain. A main part of the funding is for the creation of digital 3D-models of some Kentish artefacts, which students in a 400-level course will work on in 2019/20 towards a 3D-printed exhibition in the Museum of Antiquities.
---
Antigone: Then and Now, Here and There
Charlie Peters, Curtis Peeteetuce, and CMRS faculty member Moira Day received an ICCC grant to bring together a group of performing artists (and academics) who will seek reconciliation by exploring Sophocles' Antigone and traditional Cree stories, creating something entirely new in the process.