Welcome to the Department of Languages, Literatures, & Cultural Studies where you can discover new worlds and their languages, cultures and literatures. Our department is known for its team of dynamic and dedicated teachers, many of whom have been recipients of USSU Teaching Excellence Awards. Within the department, we offer second-language study in French, Spanish, Japanese, Chinese, and Arabic, and courses in the cultures and literatures of these languages as well as in Comparative Literature. Our close and active collaboration with STM College widens our French and Spanish course offerings and also allows students to study Ukrainian through STM. Students may also benefit from various study-abroad opportunities offered by the department and can complement their degree requirements and further enhance their language fluency by studying French, Spanish, Japanese and Chinese in the countries and environments where they are spoken. 
Students interested in majoring in second-language study may opt for undergraduate degrees in French or Modern Languages. In French, we offer the full range of undergraduate programs (3 yr. B.A., 4 yr. B.A., Honours B.A., Double Honours B.A., French Minor, and French Language Recognition). Students who already hold an Honours, 4 yr. or equivalent undergraduate degree in French may also pursue their studies further at the graduate level through our French M.A. program. We strongly recommend that undergraduate students who are interested in Graduate Studies opt for the Honours B.A.  Please consult the web site for information on graduate studies. Students thinking of teaching French at the elementary and high school levels as well as in French Immersion should seriously consider completing a 4 yr. French B.A. prior to starting their degree in Education.
The department also offers an interdisciplinary 3 yr. and 4 yr. B.A. in Modern Languages. These programs provide students with the opportunity of combining study in one or more of our languages with other areas of study such as Comparative Literature, for example. Students may choose French or Spanish as their primary language of study and complement this focus with study in any of the other languages taught in our department or other languages offered in the College of Arts and Science. Students majoring in other disciplines who would like to complement their area of specialization with study in languages may also opt for a Minor in French or Spanish or may obtain Language Recognition in any of these two languages.
Make sure to browse all our course offerings at the undergraduate and graduate level.
Our Department has a strong commitment to teaching excellence at both the undergraduate and graduate levels, and is proud of its award-winning team of teachers, most of whom have either been recipients of the USSU Teaching Excellence Award or have been nominated for it numerous times. Our faculty members routinely receive excellent student evaluations and are frequently cited for demonstrating a genuine concern and interest in the academic success of their students. Our professors have a reputation for fostering a strong and personable sense of academic community and belonging through small senior classes. They are known for walking the extra mile in order to ensure that their students are exposed to the full scope of intellectually rewarding facets of academic life. Faculty prepare students for participation in local, national and international scholarly conferences and organize academic, cultural and language student activities beyond the classroom such as conferences showcasing invited speakers and student research, theatrical productions, community theater outings, student talent and variety shows, potluck dinners, language retreats, discussion groups, film nights or international dance events. Additional cultural activities are organized by language student groups such as Le Cercle français.
Our faculty members are committed to providing the most comprehensive education possible in the languages we teach and their associated cultural and literary areas of study. We are equally engaged in working with students to promote student language-related extra-curricular activities both within the university and beyond it in the wider local languages communities.
Our faculty members are active in research areas as diverse as:
17th century French literature with focus on theatre
20th century French and French Canadian novel and theatre
Maghreb post-colonial literature and culture
Postmodern and post-colonial literature and culture
Contemporary French and Francophone cinema
French, Quebec and Western Canadian Francophone women writers
Translation studies & theory
Literary translation
Linguistics
Sociolinguistics
Language policy
Creative writing
Women's and Gender Studies
Queer Studies
20th century peninsular Spanish culture with focus on theatre, poetry and film
Central American Literature
Contemporary French and Latin American narrative
Hispanic Canadian literature
Comparative literature
Cultural Studies
Ukrainian language and culture
French Faculty Areas of Research Specialization
Spanish Faculty
Dr. Julio Torres: Central American literature; Hispanic Canadian literature; testimonial literature; contemporary Peruvian narrative; Bryce Echenique; Creative Writing
Ukrainian Faculty
News from our Department!
Our faculty members are engaged in exciting and innovative research at a national and international level. Take a closer look at their current and most recent work!
Dr. Romain Chareyron 
Edited book
2022: Trans Identities in the French Media: Representation, Visibility, Recognition. Lanham, MD: Lexington Books. 196pp.
Book Chapter
2022: "Scratching the Surface: For a reappraisal of Violence in Contemporary French Cinema", The Palgrave Handbook of Violence in Film and the Media. Cham, Switzerland: Palgrave MacMillan, pp.229-257.
2022: "Introduction. Trans Identities in the French Media", Trans Identities in the French Media: Representation, Visibility, Recognition. Lanham, MD: Lexington Books, pp.1-21.
Articles
2021: "Créer pour mieux voir: Image(s) du sida et enjeux de la representation dans 120 battements par minute." Hybrida – Special issue: SIDA/S-40 ans, n°3: pp.35-60.
2021: "Le Handicap dans le cinéma français contemporain: Quelles images? Quels discours?" Nouvelles études francophones, 36(1-2): pp.9-28.
Conferences
2022: "Au revoir là-haut: Spectacularisation de la différence et regard critique sur le handicap dans la France d'après-guerre", NeMLA 2022, Baltimore, MD, March 10-13, 2022.
2021: "Isabelle Huppert à l'écran: le trouble comme mode d'existence", Women in French – "Femmes dérangées, femmes dérangeantes", Maynooth University, May 6-9, 2021.
2021: "Adolescence and Disability: The (Slowly) Changing Face of French Television", NeMLA 2021, March 10-14, 2021.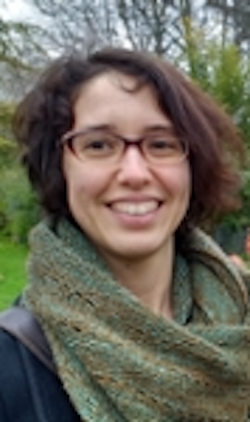 Dr. Tania Duclos
Articles
2022: "Balzac et les théories du luxe et de l'élégance à l'épreuve de l'androgyne féminin", Femmes et Luxe, perspectives littéraires, edited by Soundouss El Kettani, Isabelle Tremblay, Presses Universitaires de Rennes. pp. 151-164.
Conferences 
2022: "Genèse et effets de l'intertexte balzacien", Colloque Balzac et les disciplines du savoir, Cerisy, August 25, 2022.
2021: "Les voix de Lélia : le corps dans la parole", Colloque de l'Association canadienne d'études francophones du XIXe siècle, May 21, 2021.
Public talk
2021: Contribution to the podcast Victorian Samplings, Season 1, episode 9, "Fashion Plates", July 3, 2021.
2020: "Balzac's Gaudissart II: Waterloo fought inside a boutique", Crafting Communities roundtable on "Material Connections Between French and British 19th-Century Literature", November 13, 2020.   
Dr. Julio Torres-Recinos 
Teaching Award
On March 26, 2022, Pr Julio Torres-Recinos was awarded the Teaching Excellence Award. Selected by students, the Teaching Excellence Award recognizes those who have demonstrated enthusiasm, organization and fairness in evaluation, providing exceptional commitment and support to their classrooms.
More information on the USSU Teaching Excellence Awards
Books of poetry
2019: La Voz del Viento. San Salvador: Chifurnia Libros. 75 pp.  
2019: Nebunul, tristul / El loco, el triste (Poezii Alese / poesía selecta). Translated by Carolina Ilica. Bucharest: Editura Academiei Internationale Orient-Occiden. 93 pp. (Bilingual book with poems in Spanish and Romanian)
Articles
2019: Cuando los hombres fuertes lloran de Carmen Delia de Suárez, relectura de una novela salvadoreña olvidada". Revista Canadiense de Estudios Hispánicos, Vol. 44, n°1, Otoño 2019, pp.67-85.  
Poems
2022 (forthcoming): "Cuando anoche", "Yo no te voy a olvidar". In Honeycombs: Universal Poetry Anthology, Bucarest: Editura Academiei Internationale Orient-Occident. (2 poems)
2022 (forthcoming): "Las montañas de mi país", "Explicando, entendiendo". In Poesys 25, Bucarest: Editura Academiei Internationale Orient-Occident. (2 poems) 
2022: "Las montañas de mi país" / "Les montagnes de mon pays"; "Nubes negras" /  "Nuages noirs"; "No habrá muerte" / "Il n'y aura mort"; "Los días que vendrán" / "Les jours à venir". In Attaques n°4, March 2022. Translated by Marie-Christine Seguin. pp. 312-15. (4 poems)
2022: "Botín y pillaje". In La paz no se logra solo con el deseo. Ed. by Otoniel Guevara. Proyecto Editorial la Chifurnia: San Salvador. pp. 26-7.  
2020: J. Torres-Recinos. "Confinamiento". The Appostles Review, n°24, Spring/Summer 2020, p.28. 
The University of Saskatchewan is located in Saskatoon, Saskatchewan, a city with a diverse and thriving economic base, a vibrant arts community and a full range of leisure opportunities. The University has a reputation for excellence in teaching, research and scholarly activities, and offers a full range of undergraduate, graduate, and professional programs to a student population of about 20,000. The university is one of Canada's leading research-intensive universities. The University of Saskatchewan is committed to employment equity, welcomes diversity in the workplace, and encourages applications from all qualified individuals, including women, members of visible minorities, Aboriginal persons, and persons with disabilities. All qualified individuals are encouraged to apply to academic positions as they become available even though Canadian and permanent residents will be given priority.
---
As a department, we would like to acknowledge that the Saskatoon campus of the University of Saskatchewan is on Treaty Six Territory and the Homeland of the Métis. We pay our respect to the First Nation and Métis ancestors of this place and reaffirm our relationship with one another.