Registration is now open!
Are you looking to give your kids the adventure of a lifetime this summer? This year, the Museum of Antiquities is offering three exciting Ancient & Medieval Adventures Packs that will bring all the fun of the Ancient & Medieval Adventures Camps directly to your home! Each box combines games, crafts, lessons, and activities from 3-4 of our favourite camps, put together in an at-your-own-pace engagement style. In-box content will include craft supplies, game and game instructions, activity and colouring sheets, souvenirs and more.
Each camp will also include a selection of video lessons and craft demonstrations accessible via password-protected pages on our WordPress site.
Adventures Packs will be available for pickup or delivery in July. Each package will also include access to two optional virtual workshops, where kids will meet with other adventurers to learn about an additional culture not included in their box before putting together a craft or joining in an activity with the instruction of museum staff.
Want to see what the Ancient & Medieval Adventures Camps have in store for your kids? Check out the tabs below!
We eagerly look forward to "seeing" you all once again this summer. 
Mondays at the Museum
Each Adventures Pack will also include access to two optional live "Mondays at the Museum" online sessions, where kids will have the opportunity to learn about a culture or story, and take part in a craft or game, through live instruction from Museum staff. More information on workshop dates is forthcoming. All materials for these live sessions will be provided.
Adventure Packs for Ages 7-8
Ancient Adventures Package 
Ages 7 - 8 
Combining our Time Travellers, Tiny Titans, Fun with Pharaohs, and Knights, Lords, and Ladies camps, this Ancient Adventures Pack for 7-8 year olds will take Adventurers on a whirlwind journey through the cultures and mythology of the ancient and medieval worlds! Upon diving into this adventure, campers will meet the Greek pantheon, prepare for a medieval feast, wrap their very own mummies and more! Travelling to other parts of the world, campers will learn to hula in Hawaii and hear the mythology of Russia and Ukraine before their adventure ends. Don't miss out on the ultimate camp experience that will take kids travelling the world without even having to leave the house!
Mondays at the Museum workshop dates: July 12th and August 2nd at 1:00-3:00pm CST.

Think you've got what it takes to be a knight? Then you'll need a coat of arms! Watch this video to learn all about medieval heraldry and the key parts of a coat of arms.
Read about the Greek hero Odysseus' adventures, as he is met with danger along his journey home to Ithaca.
Listen to the story of the Frog Prince before starting your craft!
Make your own frog prince without having to kiss a real frog!
Adventure Packs for Ages 9-11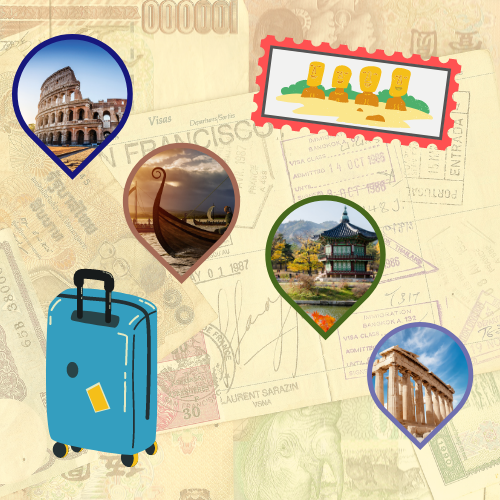 Ancient Adventures Package
Ages 9 - 11 
For 9-11 year old Adventurers, we have combined our most popular camps into the ultimate adventuring experience! Crafts, lessons, and activities from our Voyages with Vikings and Roaming Romans camps will immerse children in the cultures of the past as they become gladiators, learn to navigate the seas, and travel the Nine Realms! In Around the Ancient World, travelers will discover the arts and inventions of ancient Koreans and Aztecs. Finally, in our all-new Games of the Gods camp, adventurers will learn to juggle like the Egyptians, put on their own Japanese shadow plays, and master beloved board games from thousands of years ago. This camp will leave adventurers with a chest full of games and activities to play with a friend on a rainy day!
Mondays at the Museum workshop dates: July 26th and August 16th at 1:00-3:00pm CST.

Learn all about what bathing was like in Ancient Rome!
Create your own Roman coin!
Nine Men's Morris is an ancient game that has been around for so long that its origins have been lost to history! Not only did the Vikings play it, but so did the Egyptians and the Romans. Learn more about this game and follow the instructions to play it!
Magewarts School of Magic Pack for Ages 8 - 11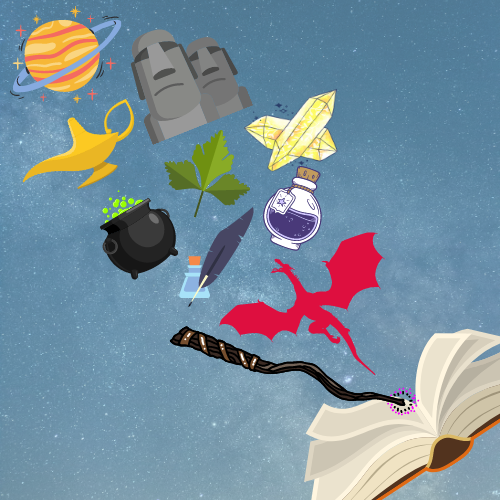 Magewarts School of Magic Package
Ages 8 - 11
This package combines all three of our Magewarts camps into one mega-camp experience! Begin with Magewarts Academy, where your child will be sorted into our exclusive Magewarts School of Magic before learning to make potions, cast spells with their very own wand, and unlock the secrets of the cosmos. Next, Magewarts Magical Creatures will have witches and wizards tame dragons, summon genies, and catch fairies in their own backyards. Finally, Magewarts Magic & Science will teach wizards the secrets behind their favourite magic tricks; watch as they learn how to reveal invisible messages, divine the future and more! Complete with a magical compendium where kids can write down all their newfound magical knowledge, the Magewarts Series has everything your child needs to become a bonafide spellcaster!
Mondays at the Museum workshop dates: July 19th and August 9th at 1:00-3:00pm CST.

Join us for a very special countdown about the top 5 inventions from the ancient world!
Although not technically magic, this little box will certainly keep all of your treasures safe due to the seemingly magical puzzle mechanism!
Calling all witches and wizards! Take this printable bingo sheet with you on walks this spring and summer, or even into your backyard, and see how many species of plants and animals you can find! Maybe you can find some ingredients for your potions!
Registration and Fees
Our Ancient & Medieval Adventures Packs are now 30% off and selling for $45.00. This sale is only on until July 30th, so take advantage of this amazing deal and provide your children with a fun-filled summer adventure!
Register at: https://ccderegistert.usask.ca/aspnet/Course/?topic=HISTORY
For any questions or concerns regarding the registration process, please contact the registration office at 306-966-5539 or email conference.events@usask.ca.
Registration Fees:
Standard Fee (Pick Up Only): $65.00 $45.00+ GST
Optional Shipping Fee: $25.00 + GST
Pick Up & Shipping Information:
Boxes will be available for pickup at the Shop USask Preston Crossing location beginning on the dates listed below. For registrants who chose the shipping option during their registration, initial shipping will begin on the dates below for arrival early July. After the dates listed below, boxes will be shipped on an as-needed basis within one week of registration being placed.
Ancient Adventures 7-8: Shipping/pickup begins June 21st
Magewarts 8-11: Shipping/pickup begins June 28th
Ancient Adventures 9-11: Shipping/pickup begins July 5th
Refund and Cancellation Policy:
Due to the nature of the content, the programs are non-refundable. The Museum of Antiquities is not responsible for loss or damage of camp materials via shipping or delivery.
For information about the camp content provided by the Museum of Antiquities, please call us at 306-966-7818 or email us at museum_antiquities@usask.ca. 
Museum of Antiquities, University of Saskatchewan
Room 116 Peter Mackinnon Building
107 Administration Place
Saskatoon, SK  
S7N 5A2
Funding Opportunities
Funding opportunities are available through Creative Kids. Creative Kids provides funding for Saskatchewan children and youth to participate in creative activities such as art, music, dance, theatre, and culture.
Creative Kids funding is:
based on a family's financial need
open to Saskatchewan residents
available for children ages 4 to 19
for activities that are primarily artistic and/or cultural
Families may apply for up to $750 per child for the length of their activity. Creative Kids may provide up to $750 for a child's activity. If an application is funded, Creative Kids pays the instructor or service provider directly.
The next application deadline for summer activities is May 28, 2021. Check out their website for more information: https://www.creativekidssask.ca/our-programs
Sponsors
The Museum of Antiquities and the Ancient & Medieval Adventures Camp would like to extend their sincere gratitude to all of the individuals and organizations for their contributions to our programs.
Special thanks to the Community Initiatives Fund for providing us with funding for the Summer of 2021.