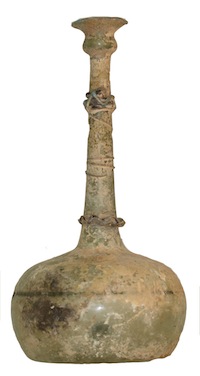 Islamic Bottle
Islamic
original
gift of: the Minden Family
date: c. 11th - 12th century AD
provenance: Syro-Palestine or Iran
description: Tall, thin-necked bottle with a tulip-shaped mouth. There is an approximate 5 mm interior flange running through the mid-point of the bulbous body and three bands of applied decoration to the neck: the lower band a thick, pinched dark blue; the mid-point in a three twist trailed decoration in the same colour as the body; the upper in dark blue trail with a cage in turquoise blue applied over.
Greenish glass, dark blue and turquoise appliqués as noted.
Height: 19 cm
Diameter: 9.5 cm
Small hole to the body repaired, spreading fractures from the hole are stable, trace encrustation, old collection label to the base.