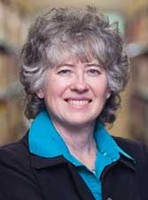 Wendy Roy
B. Journalism (Carleton), M.A. (Saskatchewan), Ph.D. (McGill)
Associate Professor
Office: Arts 419
Phone: 306-966-2132
Email: wendy.roy@usask.ca

Teaching & Supervision
Wendy Roy is Undergraduate Chair in the Department of English. She teaches classes in Canadian Literature, Canadian Fiction, and Canadian Drama; she has supervised three Masters research projects and is currently supervising two PhD dissertations.
Honours, Awards & Distinctions (Most Recent)
Inaugural Learning Communities Teaching Award, awarded by University of Saskatchewan, April 22, 2010
Finalist, Scholarly Writing Prize, for Maps of Difference: Canada, Women, and Travel, awarded by Saskatchewan Book Awards, November 26, 2005
Research
Wendy Roy works on issues of gender and culture in Canadian women's fiction and travel writing. Her current research project, funded by a SSHRC Standard Research Grant, is called Popular Culture and Repetition in Early Twentieth-Century Canadian Women's Sequel Fiction and examines the cultural and social implications of novels by writers such as L.M. Montgomery (the Anne of Green Gables books), Nellie McClung (the Pearlie Watson trilogy), and Mazo de la Roche (the Jalna books).


Dr. Roy has published a book on travel writing in Canada (Maps of Difference: Canada, Women, and Travel), as well as essays on Canadian writers including Carol Shields, Margaret Atwood, Margaret Laurence, Laura Goodman Salverson, Nellie McClung, Anna Jameson, Mina Hubbard, and Agnes Deans Cameron. She is current past-president of the Association for Canadian and Quebec Literatures / l'Assocation des littératures canadiennes et québécoise.
Publications
"The Literary Construction of Saskatchewan before 1905: Narratives of Trade, Rebellion, and Settlement." The Literary History of Saskatchewan. Vol. 1. Ed. David Carpenter. Regina: Coteau Books, 2013. 29-56
S. Gingell and W. Roy, editors and introduction. Listening Up, Writing Down, and Looking Beyond: Interfaces of the Oral, Written, and Visual. Waterloo: Wilfrid Laurier University Press, 2012.
" 'The Power and the Paradox' of the Spoken Story: Challenges to the Tyranny of the Written in Contemporary Canadian Fiction." Listening Up, Writing Down, and Looking Beyond: Interfaces of the Oral, Written, and Visual. Ed. Susan Gingell and Wendy Roy. Waterloo: Wilfrid Laurier University Press, 2012. 201-20.
E. DeLathouwer, W. Roy, A. Martin, and J. Liska. "Multidisciplinary Collaboration Through Learning Communities: Navigating Anxiety." Collected Essays on Learning and Teaching 5 (2012): 27-32.
W. Roy and J. Calderon, editors and introduction. "Representations of First Nations and Métis in Canada." Special Dossier of International Journal of Canadian Studies 41 (2010): 181-312.
"The Word is Colander: Language Loss and Narrative Voice in Fictional Canadian Alzheimer's Narratives." Canadian Literature 203 (2009): 41-61.
"Misreading the Literary Evidence in Carol Shields's Mystery Plots." English Studies in Canada 34. 2-3 (2008): 113-129.
"Brenda Bowman at Dinner with Judy Chicago: Feminism and Needlework in Carol Shields's A Fairly Conventional Woman." Atlantis 33.1 (2008): 120-30.
"The Politics of Hunting in Canadian Women's Narratives of Travel." Other Selves: Animals in the Canadian Literary Imagination. Ed. Janice Fiamengo. Ottawa: University of Ottawa Press, 2007. 305-32.
"The Body of/as Evidence: Margaret Atwood, The Blind Assassin, and the Feminist Literary Mystery." Margaret Atwood: The Open Eye. Ed. John Moss and Tobi Kozakwich. Ottawa: University of Ottawa Press, 2006. 361-71.
Maps of Difference: Canada, Women, and Travel. Montreal: McGill-Queen's University Press, 2005. Finalist, Saskatchewan Book Awards Scholarly Writing Prize (2005).
"Primacy, Technology, and Nationalism in Agnes Deans Cameron's The New North." Mosaic 38.2 (2005): 53-78.
"'The Ensign of the Mop and the Dustbin': The Maternal and the Material in Autobiographical Writings by Laura Goodman Salverson and Nellie McClung." Auto/biography in Canada. Ed. Julie Rak. Waterloo: Wilfred Laurier University Press, 2005. 247-62.
"Visualizing Labrador: Maps, Photographs, and Geographical Naming in Mina Hubbard's A Woman's Way through Unknown Labrador." Studies in Canadian Literature/Études en Littérature Canadienne 29.1 (2004): 13-34.
"'Here is the picture as well as I can paint it': Anna Jameson's Illustrations for Winter Studies and Summer Rambles in Canada." Canadian Literature 177 (2003): 97-119.
"Autobiography as Critical Practice in The Stone Diaries." Carol Shields, Narrative Hunger, and the Possibilities of Fiction. Ed. Edward Eden and Dee Goertz. Toronto: University of Toronto Press, 2003. 113-46.
"Unless the World Changes: Carol Shields on Women's Silencing in Contemporary Culture." Carol Shields: The Arts of a Writing Life. Ed. Neil Besner. Winnipeg: Prairie Fire, 2003. 125-32.
"Anti-imperialism and Feminism in Margaret Laurence's African Writings." Canadian Literature (2001): 169: 33-57.