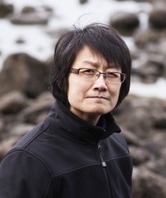 Yin Liu
B.A., Ph.D. (Alberta)
Associate Professor
Office: Arts 316
Phone: 966-1835
Email: yin.liu@usask.ca

Yin Liu teaches medieval English language and literature, history of the English language, and historical approaches to English. Her research is in the Middle English romances, intersections between medieval English literature and history, and digital humanities.
Current research: medievalcodes.ca
Honours, Awards & Distinctions (Most Recent)
Teaching Excellence Award, awarded by University of Saskatchewan Students' Union , January 1, 2005
Publications (Most Recent)
Liu, Y. "Scribal Spelling of Northern 'ta' as 'to', and Some Implications." In Studies in Middle English: Words, Forms, Senses and Texts, edited by Michael Bilynsky, 213-224. Frankfurt: Peter Lang, 2014.
Siemens, L., J. Smith, Y. Liu. "Mapping Disciplinary Differences and Equity of Academic Control to Create a Collaboration Space." Canadian Journal of Higher Education 44, 2 (2014): 49-67.
Liu, Y. "Ways of Reading, Models for Text, and the Usefulness of Dead People." Scholarly and Research Communication 5, 2 (2014).
Liu, Y. "Romances of Continuity in the English Rous Roll." In Medieval Romance, Medieval Contexts, edited by Rhiannon Purdie and Michael Cichon, 149-159. Woodbridge: Boydell & Brewer, 2011.
Liu, Y. "The Challenge of an Ancestor of the Earl of Warwick: The Guînes pas d'armes of 1413." OSTMAR 1.4 (2011): 1-10.
Liu, Y. "Building History in the English Rous Roll." Viator 42, 2 (2011): 307-319.
Liu, Y. "Text as Image in Kipling's Just So Stories." Papers on Language and Literature 44.3 (2008): 227-249.
Smith, Jeff, and Yin Liu. "A Relational Database Model for Text Encoding." Computers in the Humanities Working Papers A.43 (2008).
Liu, Y. "Middle English Romance as Prototype Genre." Chaucer Review 40.4 (2006): 335-353.
Liu, Y. "Richard Beauchamp and the Uses of Romance." Medium Ævum 74 (2005): 271-287.
Liu, Y. "Incest and Identity: Family Relationships in Emaré." In The Court Reconvenes: Courtly Literature Across the Disciplines, edited by Barbara Altmann and Carleton Carroll, 179-185. Cambridge: D. S. Brewer, 2003.
Liu, Y. "Clothing, Armour, and Boundaries in Sir Perceval of Galles." Florilegium 18.2 (2002): 79-92.