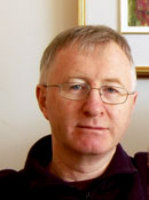 Peter Hynes
B.A. (Acadia), M.A. (York, England), Ph.D. (Toronto)
Associate Professor
Office: Arts 413
Phone: 966-5519
Email: peter.hynes@usask.ca

Research
Peter Hynes has a background in comparative literature and 18th-century studies, with particular interests in the epistolary novel, sentimental drama, and the work of Jean-Jacques Rousseau. Lately his teaching and research focus has expanded to include contemporary fantasy and science fiction. He has published articles on Richardson and on eighteenth-century drama. Current writing includes essays on Diderot, Frances Brooke, and Ursula K. Le Guin.
Publications
"Sophia Lee and the genre serieux." Journal for Eighteenth-Century Studies 33 (2010): 37-47.
"Richard Steele and the Genealogy of Sentimental Drama: A Reading of The Conscious Lovers." PLL 40 (2004): 142-66.
"Against Theory? Knowledge and Action in Wycherley's Plays." Literature Criticism 1400-1800 102 (2004): 126-39.
"Exchange and Excess in Lillo's London Merchant." UTQ 72 (2003): 679-97.