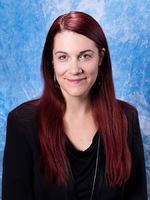 Nancy Van Styvendale
B.A., Hon. (Winnipeg), M.A. (Simon Fraser), Ph.D. (Alberta)
Assistant Professor
Office: Arts 414
Phone: 966-5521
Email: n.vanstyvendale@usask.ca

I specialize in Native North American literatures and am currently working on a manuscript that explores how recovery and home are represented in Indigenous texts from Canada and the United States. My upcoming research focuses on the intersections between community service-learning and Aboriginal literatures, specifically in a local context. I serve on the board of AIDS Saskatoon and am one of the central coordinators of the Inspired Minds: All Nations Creative Writing program at the Saskatoon Correctional Centre.
Teaching & Supervision
I teach a range of undergraduate courses in Aboriginal literatures (ENG 335.3, ENG 242.3, ENG 338.3), as well as Honours seminars and graduate courses in Native North American literatures. I am happy to supervise students interested in Indigenous literatures from Canada and/or the United States, as well as those interested in community-engaged literary scholarship or community service-learning. I am also available to work with students who are interested in postcolonial, trauma, or citizenship theory.
I also teach an undergraduate interdisciplinary community service-learning course entitled "Dynamics of Community Involvement" (INCC 201.3), and have developed experiential community service-learning options in the Aboriginal Literatures courses I teach.
Research
My primary research area is Native North American literatures (Indigenous literatures from Canada and the United States). My additional areas of interest include community service-learning; community-engaged learning; community-based research; trauma theory; postcolonial theory; and citizenship in a literary context.
Publications
Str8Up and Gangs: The Untold Stories. Ed. Fawn Einarson, Allison Piché and Nancy Van Styvendale. Saskatoon: Hear My Heart Books Ltd., 2012.
Narratives of Citizenship: Indigenous and Diasporic Communities Unsettle the Nation-State. Ed. Aloys Fleischmann, Nancy Van Styvendale and Cody McCarroll. Edmonton: University of Alberta Press, 2011.
The Im/possibility of Recovery in Native North American Literatures. U of A dissertation (2010). Available through the University of Saskatchewan's Indigenous Studies Portal.
"The Trans/historicity of Trauma in Jeannette Armstrong's Slash and Sherman Alexie's Indian Killer." Studies in the Novel 40.1-2 (2008): 203-223.
"Longing for Recognition: Reading the Economies of Masculinity and Mourning in Sahar Khalifeh's Wild Thorns." Masculinity in Middle Eastern Literature and Film. Ed. Lahoucine Ouzgane. Routledge, 2008.
"Naming as Performative Re-membering in Eden Robinson's 'Queen of the North.'" Journal of Commonwealth and Postcolonial Studies 9.4 (2002): 93-104.