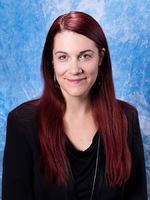 Nancy Van Styvendale
B.A., Hon. (Winnipeg), M.A. (Simon Fraser), Ph.D. (Alberta)
Assistant Professor
Office: Arts 414
Phone: 966-5521
Email: n.vanstyvendale@usask.ca

Teaching & Supervision
I teach a range of undergraduate courses in Indigenous literatures (ENG 335.3, ENG 242.3, ENG 338.3), as well as Honours seminars and graduate courses in this area. I am interested in supervising graduate students working in the area of Indigenous literatures from Canada and/or the United States; community-engaged literary scholarship or community service-learning; and/or prison writing/representations of carceral space. I am versed in trauma theory, poststructuralist theories of subject formation, and discourses of citizenship in Indigenous and diasporic literatures.
I am one of the coordinators of the Inspired Minds: All Nations Creative Writing Program at the Saskatoon Correctional Centre. In partnership with Diann Block (Aboriginal Cultural Coordinator, Correctional Centre) I teach creative writing courses to men in jail and coordinate volunteer facilitators. I also co-teach (with Profs Sarah Buhler and Priscilla Settee) an interdisciplinary, community-based course on justice called "Wahkohtowin," which means "kinship" in Cree. This class is offered to Str8Up members (former gang members), Oskayak High School students, and university students in English, Law, and Native Studies.
Honours, Awards & Distinctions (Most Recent)
Award for Community Engaged Teaching and Scholarship, awarded by University of Saskatchewan, October 25, 2014
College of Arts and Science Teaching Award (Humanities), awarded by University of Saskatchewan, June 30, 2013
Research
My primary research and teaching area is Indigenous North American Literatures. My additional areas of interest include community-engaged learning; community-based research in literary contexts; prison writing; Indigneous urbanization; and trauma theory.
Publications
Str8Up and Gangs: The Untold Stories. Ed. Fawn Einarson, Allison Piché and Nancy Van Styvendale. Saskatoon: Hear My Heart Books Ltd., 2012.
Narratives of Citizenship: Indigenous and Diasporic Communities Unsettle the Nation-State. Ed. Aloys Fleischmann, Nancy Van Styvendale and Cody McCarroll. Edmonton: University of Alberta Press, 2011.
The Im/possibility of Recovery in Native North American Literatures. U of A dissertation (2010). Available through the University of Saskatchewan's Indigenous Studies Portal.
"The Trans/historicity of Trauma in Jeannette Armstrong's Slash and Sherman Alexie's Indian Killer." Studies in the Novel 40.1-2 (2008): 203-223.
"Longing for Recognition: Reading the Economies of Masculinity and Mourning in Sahar Khalifeh's Wild Thorns." Masculinity in Middle Eastern Literature and Film. Ed. Lahoucine Ouzgane. Routledge, 2008.
"Naming as Performative Re-membering in Eden Robinson's 'Queen of the North.'" Journal of Commonwealth and Postcolonial Studies 9.4 (2002): 93-104.
Publications (Most Recent)
, Sarah Buhler and Priscilla Settee. "Teaching and Learning About Justice Through Wahkohtowin." Annual Review of Interdisciplinary Justice Research 4 (2014): 182-210.