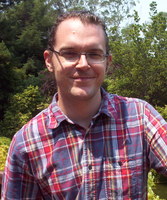 Lindsey Banco
B.A., Hons. (Alberta), M.A. & Ph.D. (Queen's)
Assistant Professor
Office: Arts 308
Phone: 966-8438
Email: lindsey.banco@usask.ca

Teaching & Supervision
Lindsey Banco has taught undergraduate courses on American literature, Gothic literature, short fiction, and cultural studies, as well as graduate seminars on American literature and culture.
He has supervised an eclectic range of graduate projects, including ones on Philip K. Dick, Battlestar Galactica, Washington Irving, vampires, animals, Don DeLillo, and Robocop.
Research
Lindsey Banco is the author of Travel and Drugs in Twentieth-Century Literature (2009), a book that examines depictions of mobility and intoxication in the work of writers such as William Burroughs, Hunter S. Thompson, Aldous Huxley, and Alex Garland.
He is currently at work on a book-length project studying representations of the atomic bomb in mid-twentieth-century American literature and culture, as well as a more nebulously-defined project on "skywardness," the intersections among space, place, photography, trauma, and aerial perspectives. He enjoys working on canonical American literature and, equally, varieties of representational modes and disciplines. His work spans a range of modern, postmodern, and contemporary literatures, forms, and issues, and uses multiple theoretical and methodological approaches.
Publications
Book:
Travel and Drugs in Twentieth-Century Literature. New York: Routledge, 2009.
Journal Articles:
"'Hiroshima is Peanuts': The Strange Landscape of The Day After." Arizona Quarterly. forthcoming.
"The Biographies of J. Robert Oppenheimer: Desert Saint or Destroyer of Worlds." Biography 35.3 (2012): 492-515.
"La drogue et le journal de voyage contemporain." ["Drugs and the Contemporary Travelogue."] Drogues, santé et société 11.1 (2012): 1-18.
"Contractions in Cormac McCarthy's The Road." The Explicator 68.4 (2010): 276-279.
"Mapping Authorship: Overhead Cartography in Paul Auster's City of Glass." Canadian Review of Comparative Literature 36.4 (2009): 381-398.
"The 'Peculiar Glare of Recognition': Drunkenness and the Southern Gothic in Flannery O'Connor's The Violent Bear It Away." Gothic Studies 11.2 (2009): 63-73.
"Trafficking Trips: Drugs and the Anti-Tourist Novels of Hunter S. Thompson and Alex Garland." Studies in Travel Writing 11.2 (2007): 127-53.
Other Publications:
"Cormac McCarthy: The Road." The Literary Encyclopedia. First published 23 August 2011. http://www.litencyc.com/