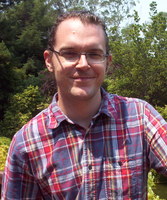 Lindsey Banco
B.A., Hons. (Alberta), M.A. & Ph.D. (Queen's)
Assistant Professor
Office: Arts 415
Phone: 966-8438
Email: lindsey.banco@usask.ca

Teaching & Supervision
Courses taught include: ENG 110, "Literature and Composition"; ENG 114, "Literature and Science"; ENG 232, "Gothic Narrative"; ENG 246, "Short Fiction"; ENG 347, "American Literature Since 1960"; ENG 464, "The American Gothic"; and graduate seminars on American literature and culture.

I have supervised an eclectic range of graduate projects, including ones on Philip K. Dick, Battlestar Galactica, Washington Irving, animals, and Robocop. I welcome projects that explore canonical American literature and, equally, that intersect a variety of representational modes and disciplines. I am willing to work on an array of modern, postmodern, and contemporary literatures, forms, and issues, and I encourage the use of multiple theoretical and methodological approaches.

Research
I am the author of Travel and Drugs in Twentieth-Century Literature (2009), a book that examines depictions of mobility and intoxication in the work of writers such as William Burroughs, Hunter S. Thompson, Aldous Huxley, and Alex Garland. I am currently at work on two research projects, one involving literary representations of animals and another on the junctures between photography, landscape, science, and technology in mid-twentieth-century American literature and culture.
Publications
Book:
Travel and Drugs in Twentieth-Century Literature. New York: Routledge, 2009.
Journal Articles:
"The Biographies of J. Robert Oppenheimer: Desert Saint or Destroyer of Worlds." Biography 35.3 (2012): 492-515.
"La drogue et le journal de voyage contemporain." ["Drugs and the Contemporary Travelogue."] Drogues, santé et société 11.1 (2012): 1-18.
"Mapping Authorship: Overhead Cartography in Paul Auster's City of Glass." Canadian Review of Comparative Literature (forthcoming).
"Contractions in Cormac McCarthy's The Road." The Explicator 68.4 (2010): 276-279.
"The 'Peculiar Glare of Recognition': Drunkenness and the Southern Gothic in Flannery O'Connor's The Violent Bear It Away." Gothic Studies 11.2 (2009): 63-73.
"Trafficking Trips: Drugs and the Anti-Tourist Novels of Hunter S. Thompson and Alex Garland." Studies in Travel Writing 11.2 (2007): 127-53.
Other Publications:
"Cormac McCarthy: The Road." The Literary Encyclopedia. First published 23 August 2011. http://www.litencyc.com/