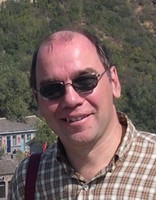 Igor Morozov
M.Sc., Ph.D.
Professor
Office: Geology 142
Phone: 2761
Email: igor.morozov@usask.ca
Website: http://seisweb.usask.ca/

Seismology, rock physics, and potential-field imaging.
Research Interests
Seismic methods
Deep Earth
Ground-penetrating radar
Geophysical software development
Teaching & Supervision
GEOL483 ( Seismology)
GEOL335 (Introduction to seismic and GPR methods)
GEOL485 (Geophysical methods)
Various graduate classes in Geophysics on demand.
Research
Seismology at all scales: shallow, exploration, regional using nuclear explosions, global, free oscillations of the Earth, and lunar seismology.
Seismic attenuation and anelasticity. Theoretical research in materials science.
Development of software for geophysical data analysis.