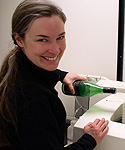 Elizabeth Robertson
BSc University of Calgary 1995, MAC (Master of Art Conservation) Queen's University 1997; PhD University of Calgary 2006
Assistant Professor
Office: Archaeology 224
Phone: 966-4177
Email: liz.robertson@usask.ca

Courses Taught and In Development
Archaeology 112: Introduction to Archaeology and Biological Anthropology
Archaeology 459: Geoarchaeology
Archaeology 462: Contemporary Archaeological Theory
Archaeology 805: Core Seminar in Archaeological Method and Theory
Archaeology 855: Problems in Archaeology
Graduate Students
Supervisor
Alan Korejbo, M.A. student, Department of Archaeology, University of Saskatchewan, 2007 to present
Co-supervisor
Karin Steuber, Ph.D. student, Department of Archaeology, University of Saskatchewan, 2008 to present
Research
At present, I'm pursuing two different research interests. In an extension of my dissertation research on the relationship between past environments and precontact activity in the Cypress Hills of southeastern Alberta, I'm looking at similar issues in the montane forest of the Eastern Slopes of the Alberta Rockies and the parkland of central Saskatchewan, both of which, like the Cypress Hills, appear to have been heavily used by Plains precontact groups but are ecologically divergent from the grassland environments which we typically associate with such groups. I'm also undertaking an archaeometric study of Beaver River Sandstone, an important tool stone in the precontact archaeological sites of northern Alberta and Saskatchewan. Specifically, using the high-resolution analytical capability of the Canadian Light Source, our national synchrotron facility, I'm trying to learn more about how heat treatment was used to improve the stone's working characteristics, while at the same time developing a better understanding of precontact trade and exchange in this region by collecting data that will help us link artifacts made of this material to specific source localities.
Publications
Selected Publications
Robertson EC and Klassen JA. 2007. Holocene Landscape Change in the Cypress Hills
of Southeastern Alberta: Implications for Late Prehistoric Archaeological Site Formation and Paleoenvironmental Reconstruction. Plains Anthropologist 51(199):425-442.
Robertson EC, Seibert JD, Fernandez DC, Zender MU (Eds.) 2006. Space and Spatial
Analysis in Archaeology. Calgary, AB: University of Calgary Press.
Robertson EC. 2004. Communal Hunting as a Social Model for the Paleoindian to Early
Archaic Transition on the Plains. In Archaeology on the Edge: New Perspectives from the Northern Plains, Kooyman B and Kelley J (Eds), pp. 211-229. Calgary, AB: University of Calgary Press.
Robertson EC. 2002 Depositional Environments and Archaeological Site Formation in
the Cypress Hills, Southeastern Alberta. Géographie physique et Quaternaire 56:261-277.