Caroline Tait Receives 2008 Women of Distinction Award
posted September 8, 2008
Dr. Caroline Tait, assistant professor and graduate chair (Native Studies) and a member of the Indigenous Peoples' Health Research Centre (IPHRC) received a 2008 Women of Distinction award from the YWCA. The Women of Distinction award honours the accomplishments of exceptional Saskatoon women.

Dr. Tait received the award for the area of science, technology or research. The StarPhoenix reported that her "experience has benefited indigenous people and women on the edge of mainstream society. Tait focuses her work on the prevention of fetal alcohol spectrum disorder in First Nations communities and adapting immigrant and indigenous people as newcomers to urban life."

Caroline Tait is Metis from MacDowall, Saskatchewan. She received her PhD from the Departments of Anthropology and Social Studies of Medicine at McGill University. She has a BA degree from McGill University in anthropology and a MA degree in medical anthropology from the University of California at Berkeley. During 1995-1996 academic year, she was a Fulbright Scholar and Visiting Fellow at Harvard University in the Departments of Anthropology and Social Medicine.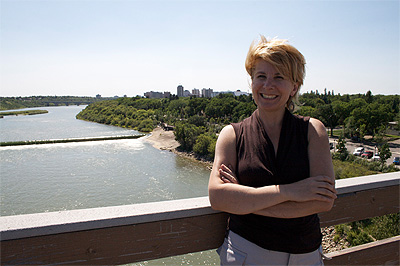 Dr. Tait is the past coordinator of the National Network for Aboriginal Mental Health Research funded by the Institute for Aboriginal Peoples Health Research and completed a postdoctoral fellowship in the Division of Social and Transcultural Psychiatry, Department of Psychiatry, McGill University in May 2004. She is past Vice-chair of the Aboriginal Women's Health and Healing Research Group, a national group of Aboriginal women who are funded by the Women's Health Bureau, Health Canada.
In May 2004 she joined the Indigenous Peoples' Health Research Centre, First Nations University of Canada and the Department of Women's and Gender Studies, University of Saskatchewan as an Assistant Professor. In 2007, Dr. Tait joined the Department of Native Studies.
Dr. Tait's research spans across North America, contrasting the Canadian and American public health responses to substance abuse by pregnant women. Her doctoral dissertation is entitled,"The tip of the iceberg": The "making" of Fetal Alcohol Syndrome in Canada. She is also the author of A Study of the Service Needs of Pregnant Addicted Women in Manitoba, and Fetal Alcohol Syndrome among Canadian Aboriginal Peoples: Review and Analysis of the Intergenerational Links to Residential Schools, commissioned by the Aboriginal Healing Foundation.