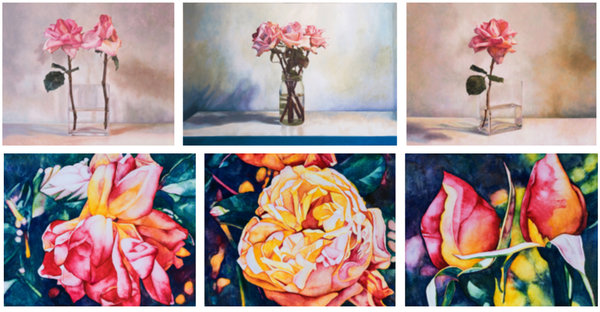 Paintings by Laureen Marchand (top) and Catherine Macaulay (bottom)
March Exhibitions at the Darrell Bell Gallery
The month of March brings a cultural convergence of college alumni to the Darrell Bell Gallery. Botanical, an exhibition of floral paintings by artists Catherine Macaulay (BA'69 History and Psychology, Honours Certificate '86, Art & Art History) and Laureen Marchand (MFA'85) is on view from March 4 through April 1, 2017. Also on view is the exhibition Gotham: New Paintings by Jim Graham (BA'70 English). The gallery owner, Darrell Bell (BA'81), is himself an alumnus and an artist.
When: March 4 to April 1, 2017
Where: Darrell Bell Gallery
405 - 105 21st St. E. (Canada Bldg) Saskatoon
Wed - Sat, 11a.m. - 5P p.m.
Info: darrellbellgallery.com
About the Artists
Laureen Marchand lives in Val Marie, Sask, just north of the Montana border in the gateway to Grasslands National Park. Inspired by its beauty and remoteness, her paintings reflect upon our ideas and perception of beauty. Her paintings have been widely exhibited nationally and internationally in solo and group shows and are represented in many public and private collections. Her work has received recognition from the Saskatchewan Arts Board, the Canada Council for the Arts and by residencies at the Banff Centre for the Arts, Tyrone Guthrie Centre (Ireland) and Ragdale Foundation (Illinois). She is an award-winning volunteer and contributor to Canada's artistic community as teacher, mentor, writer, curator and cultural facilitator.
In her richly-coloured paintings, Catherine Macaulay focuses intently on plants we might otherwise take for granted. She turns their forms into meditations on both the grasslands outside her studio window in Val Marie, Sask and her memory of distant landscapes. With a deep understanding of the watercolour medium and a lifelong commitment to observing nature, Macaulay has created a compelling body of work. Her paintings have been exhibited and collected in Canada and internationally.
Jim Graham paints in a photo-realist style, working from still photographs of urban scenes, especially in Saskatoon. He has a keen interest in the process of transforming a photograph into a painted image as a way of gathering knowledge. His work has been exhibited in solo and group exhibitions across western Canada and is represented in public collections including the Canada Council Art Bank, Government of Saskatchewan, Mendel Art Gallery, Saskatchewan Arts Board and University of Saskatchewan. He has received several awards and grants from the Saskatchewan Arts Board. He lives and works in Saskatoon.