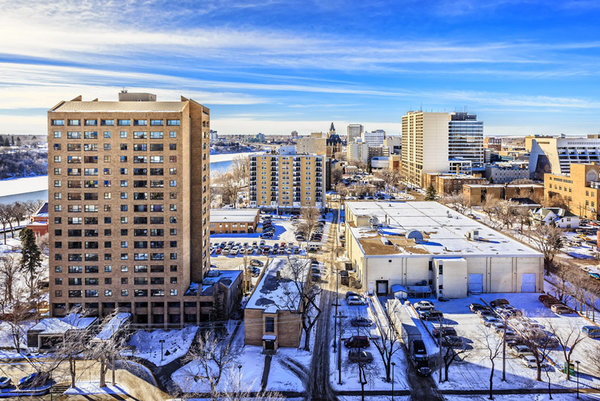 Saskatoon's skyline. (Scott Prokop / Shutterstock)
By Lyndall Mack
Students of the Regional and Urban Planning (RUP) program in the College of Arts & Science are the brains behind the upcoming Momentum 2017: Planning Healthy Communities conference.
Momentum 2017 will be held on March 10 in Saskatoon. Tickets are available until March 3.
RUP students Jamie Honsberger and Kostas Karachalios are co-chairs for the student-led conference, which highlights a range of topics regarding community health. The conference is sponsored by the College of Arts & Science and will include discussions about transportation, the environment, food security and Indigenous community planning.
"I think the interdisciplinary nature of [the conference] makes it applicable to a lot of people. We're talking about issues that are pertinent to a lot of different places," said Karachalios. "As the title implies, one of the main things is to generate momentum and talk about content that people can take and . . . implement in their own lives or in their community."
The inaugural Momentum conference was held in 2016 as a response to the cancellation of the annual Canadian Association of Planning Students Conference. RUP students organized the conference in less than six weeks with much success.
Robert Patrick, an associate professor in the Department of Geography and Planning and the School of Environment and Sustainability, is providing guidance to the student organizers.
"This is really a very high-quality, professional conference," said Patrick. "The fact they are doing this says something about their belief in planning, their belief in the program and their capability of what they can do outside of the classroom."
The conference is open to students, professionals and community members. Karachalios thinks the conference is a valuable learning opportunity for students who attend.
"I think it's a great way to experience a lot of different realms within planning, especially for third and fourth year students who are entering the workforce," said Karachalios.
Lyndall Mack is a student intern in the College of Arts & Science communications & events office.