Alumni Association Achievement Award recipients announced
Posted on 2017-09-07 in Alumni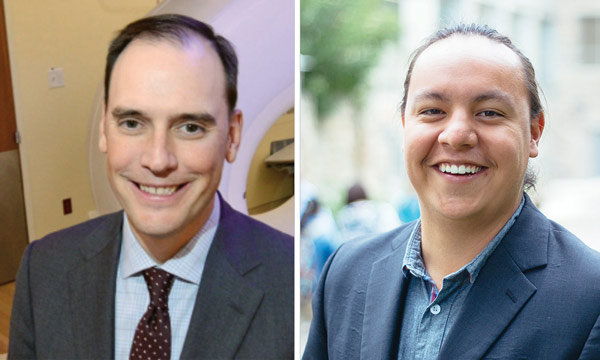 Jeff Norris (left) and Max FineDay
Max FineDay (BA'15) and Jeff Norris (BA'97), two graduates of the College of Arts & Science, will be among those receiving University of Saskatchewan Alumni Association Achievement Awards at a gala on Oct. 26, 2017.
Each year, the alumni association honors individuals who have left the U of S and achieved excellence in their fields and enhanced their communities. The full list of Alumni Association Achievement Award winners, along with details on the upcoming awards gala, can be found on the U of S alumni website.
---
Max FineDay (BA'15)
Presented for his excellence in Aboriginal initiatives and community leadership.
Max FineDay is the co-executive director of Canadian Roots Exchange, a national charity that brings together Indigenous and non-Indigenous youth to explore reconciliation through exchange programs, national conferences and leadership development. He co-developed Next Up: First Nations and Metis Youth in Action in 2014, a Saskatchewan-wide program focused on supporting emerging Indigenous youth leaders through skills and issues-based training.
Jeff Norris (BA'97)
Presented for his outstanding community leadership and philanthropy.
Jeff Norris's career in non-profit organizations began in the '90s when he led The Big Bike Ride for the Heart and Stroke Foundation. Jeff, currently president and CEO of Royal Columbian Hospital Foundation in New Westminster B.C, received the Giving Hearts Award by the Association of Fundraising Professionals (Vancouver chapter) and a Forty under 40 Award by Business in Vancouver.