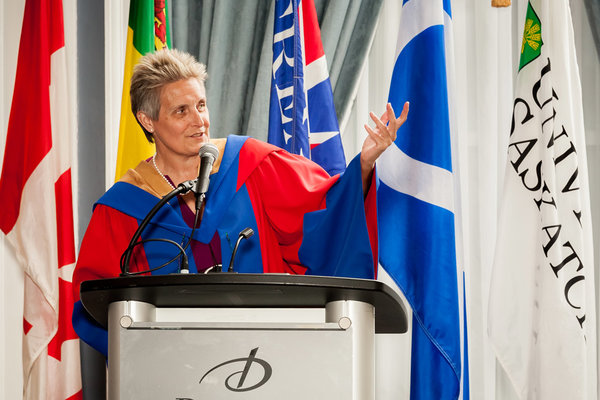 Dean Peta Bonham-Smith addresses award-winning students at the 2017 Convocation Awards Dinner and Ceremony (photo: Daniel Belhumeur, Sevenstar Studio)
Fifty-three top graduating students from across the College of Arts & Science were recognized at the college's annual Convocation Awards Dinner and Ceremony on June 5, 2017.
The distinguished graduates, as well as the three faculty recipients of this year's Teaching Excellence Awards, were presented with certificates at a special dinner and ceremony at the Delta Bessborough Hotel.
Representatives of the college, the Government of Saskatchewan, the Saskatoon Tribal Council and the U of S Alumni Association offered words of congratulations to the award-winning students.
"Wherever you go, take with you the knowledge that you have what it takes to build successful lives and careers," Dean Peta Bonham-Smith told the students in attendance. "You carry within you your love of learning, your strong intellects and the ability to put the knowledge you acquire to work to make the world a better place."
Photos from the event can be viewed on the college Flickr page.
---
2017 Convocation Awards Dinner and Ceremony:
Award recipients
MEDAL WINNERS: FALL 2016 CONVOCATION

Lorna Theresa Beech
Fall Convocation Three-Year Medal
Christina Wilma Fowlie-Neufeld
Rose Litman Medal in the Humanities
Alice Louise Godson
University Medal in the Social Sciences
Dean's Medal
Renata Kisin
University Medal in the Fine Arts
Jasmine Geraldine McGuin
University Medal in Science
MEDAL WINNERS: SPRING 2017 CONVOCATION
Tyla Christine Betke
Copland Prize in Humanities
Debrou Top Graduate Award in History
Arunima Soma Dalai
Spring Convocation Three-year Medal
Silas Christopher Friesen
University of Saskatchewan Film Society Prize
Haslam Medal
Arthur Collingwood Convocation Prize in Music
Olivia Hodson
University Medal in Arts & Science Degree
Most Outstanding Graduate in Health Studies
Conley Robert Kriegler
Copland Prize in Social Science
Mengxi Tang
Earl of Bessborough Prize in Science
AWARD WINNERS IN HUMANITIES AND FINE ARTS
Jessica Frances Jaeger Klaassen-Wright
Award for Excellence in English Studies
Cole Thompson
Judy Poole Award in Art & Art History
Nadia Sara Mori
Walter Mills Award in Drama
Jaclyn Lyla Morken
Most Outstanding Graduate in Languages, Literatures & Cultural Studies
Michael Anthony Pinder
Department of Philosophy Convocation Award
Jorie Dawn Halcro
The Braj Sinha Award for the Most Outstanding
Graduate in Religion and Culture
Graham Sheldon Traves
Most Outstanding Graduate in Classical, Medieval, and Renaissance Studies
AWARD WINNERS IN SOCIAL SCIENCES
Hope MacKenzie Anderson
Most Outstanding Graduate in Linguistics
Nicholas Wilfred Hotsko
Mabel F. Timlin Prize in Business Economics
Ryan John Lochart
Lewis C. Gray Prize in Economics
Michayla Celine van de Velde
Most Outstanding Graduate in Sociology
Ashley Deanne Kaitlin Halko-Addley
Most Outstanding Graduate in Anthropology
Cassy Marie Appelt
Most Outstanding Graduate in Archaeology
Carlie Natalie Irene Elliott
Department of Geography and Planning Convocation Award
Priscila Tayna Ferreira Da Silva
Tania Balicki Memorial Award in Indigenous Studies
Andrea Jaclyn Ens
The Honourable Donald Alexander McNiven Prize in Political Studies
Viet Quan Nguyen
Gordon A. McMurray Prize in Psychology
Dylan Elizabeth Kann Lambi-Raine
Most Outstanding Graduate in Women's & Gender Studies
AWARD WINNERS IN SCIENCE
Kelton Trevor Braun
W.P. Thompson Convocation Prize in Biology
Zachary Jacob Huschi
Most Outstanding Graduate in Chemistry
Rachel Emmalee Ward
James Newstead Award for Anatomy and Cell Biology
Dakoda James Herman
Most Outstanding Graduate in Biochemistry
Joanna Philomena Klees van Bommel
Most Outstanding Graduate in Environmental Biology
Daniel Ross Johnson
Ore Gangue Memorial Award in Geological Sciences
Brianna Danielle Ball
Most Outstanding Graduate in Mathematics
Mariam Hady Alphonse Goubran
J.F. Morgan Memorial Award in Microbiology & Immunology
Duncan Kirby
Most Outstanding Graduate in Physics
Claire Chang Liu
L.B. Jacques Convocation Award in Physiology and Pharmacology
Andrew Max Magnus
Most Outstanding Graduate in Computer Science
Daniel James McCloskey
Most Outstanding Graduate in Applied Mathematics
AWARD WINNERS IN INTERDISCIPLINARY PROGRAMS
Michelle Raeanna Brabant
Most Outstanding Graduate in Biotechnology
Jaala Leann Patry
Most Outstanding Graduate in Biomolecular Structure Studies
Cameron Johns
Most Outstanding Graduate in Interactive Systems Design
Conor Kyriakos Lazarou
Most Outstanding Graduate in Bioinformatics
Lucy Constance Wattam
Most Distinguished Graduate in Environmental Earth Sciences
Natalie Nanyangwe Longmore
Most Outstanding Graduate in Food Science
Valentina Alexandra Chertez
Most Outstanding Graduate in Environment and Society
Laura Dawn Friesen
Most Outstanding Graduate in International Studies
Madeline Rose Berezowski
Most Outstanding Graduate in Mathematical Physics
Amanda Yvonne Lindgren
Public Administration Program Convocation Award
Sahar Khelifa
Regional & Urban Planning Program Convocation Award
Benjamin Jalmer Abelseth
Most Outstanding Graduate in Toxicology
TEACHING AWARDS
Michael Bradley
Teaching Excellence Award
Yin Liu
Teaching Excellence Award
Susan Shantz
Teaching Excellence Award