Peta Bonham-Smith appointed as dean
The University of Saskatchewan has appointed Peta Bonham-Smith as dean of the College of Arts & Science for a five-year term.
Bonham-Smith, who has served as dean of the college on an interim basis since 2015, will step into the permanent role effective July 1, 2017.
"During my time with the college—as an academic, instructor and administrator—I have come to appreciate the excellent teaching, research, scholarly and artistic work of my colleagues, faculty, staff and students," says Bonham-Smith. "It is truly an honour to continue advancing this work as dean of the college."
Bonham-Smith, who earned her BSc from Wolverhampton Polytechnic U.K. and her PhD from the University of Calgary, joined the U of S Department of Biology in 1994. She was the director of the Virtual College of Biotechnology from 2000–02; department head of biology from 2008–10; and vice-dean, science from 2010–15.
"In appointing Dr. Bonham-Smith as dean, the university is confirming its confidence in her ability to lead a complex and crucial college, something she has been doing with skill for the past two years," says Michael Atkinson, interim provost and vice-president academic. "I am excited to see how she and her leadership team will continue to connect disparate disciplines and achieve outstanding results."
---
Aboriginal Student Achievement Program shows impact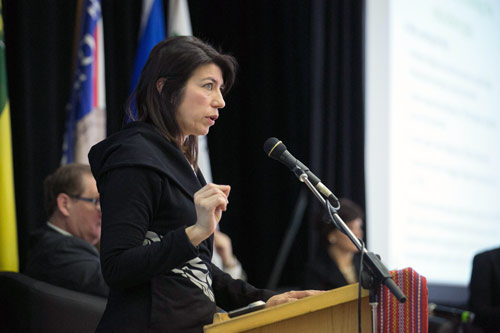 Launched in 2012, the College of Arts & Science's Aboriginal Student Achievement Program (ASAP) has been featured in the New York Times and the Globe and Mail for its unique, holistic approach to helping Aboriginal students succeed—and a new report released for the program's fifth anniversary suggests it's working.
ASAP was created in part to address the low retention rate of Aboriginal students in the college. Historically, only about half of first-year Aboriginal students returned for their second year of study, compared to nearly three-quarters of arts and science students overall.
The program's mission is to close that gap by offering first-year Aboriginal students academic, financial, social and cultural support. Students in ASAP join learning communities of likeminded students who attend classes together and help one another. Courses are taught by professors who understand the cultures and needs of Aboriginal students.
A report released at an ASAP anniversary celebration on May 17 reveals that, since its inception, 60 per cent of First Nations students who enrolled in ASAP returned for their second year of study, compared to 46.5 per cent of First Nations students who did not join the program.
That's a success to be proud of, says Kristina Bidwell, the college's associate dean of Aboriginal affairs.
"But we also recognize that improving the first-year experience and first-to-second-year retention for Aboriginal students is only a first step in making certain that those students then have full access and feel fully included in all our disciplines, all the way to graduation."
As part of a renewed commitment to this goal, the college recently announced the ASAP STEM Pathways program. This expansion to ASAP will offer extra support for students interested in studying science, technology and math through all four years of their student careers.
---
Province announces U of S funding cut
The announcement of a 5.6 per cent budget cut to the U of S in the 2017–18 provincial budget will impact every college, school and unit at the university, including the College of Arts & Science. The college received a reduction of 3.3 per cent for the coming year, to be approved by the Board of Governors in June.
In a statement, U of S President Peter Stoicheff noted that the U of S is one of the best financially managed universities in Canada, and that these reductions will deplete the university's reserves and weaken its ability to serve the province.
The cuts "will not change who we are," says Peta Bonham-Smith, dean of the College of Arts & Science. "Our college will continue to serve students, support vital research and contribute to the economy and culture of our province. However, to achieve this in the future, we will need to seek alternate sources of funding."


---
Logan's drawing makes stage debut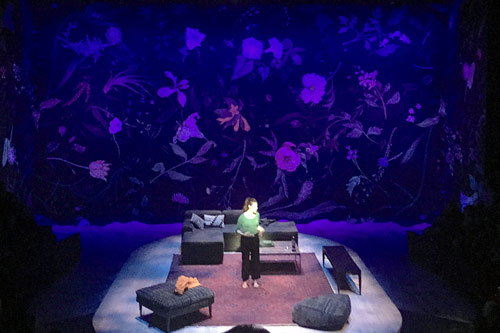 Zachari Logan (BFA'05, MFA'09) makes intricately rendered drawings of wildlife, plants and the body that are in demand around the world. One of them even made its Off-Broadway theatrical debut onstage at New York's Lincoln Center this March.
An adapted version of Logan's drawing Pool 2, After Mary Delany appeared as an integral component of a set for the play "How to Transcend a Happy Marriage" by Sarah Ruhl.
Award-winning set designer David Zinn discovered the drawing online and brought it to the attention of the director.
"The director loved the drawings from my 'Pool Series,' finding them perfect for this play," says Logan, "so David decided to get in touch to see if I was interested in allowing the reproduction."
Creating the backdrop required printing the drawing on canvas at approximately four times its original size, at over 45 by 22 feet.
Logan made it to New York to attend opening night and meet the show's star, Oscar-winning actress Marisa Tomei.
"Marisa told me that the beauty of my drawing helped her tap into a wildness within her character… which for me was such a humbling and amazing thing to hear," says Logan.
---
Thumbnail sheds light on Franklin mystery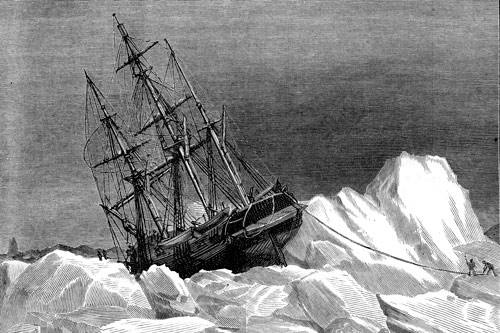 They shuffled into the camp, eight or nine silent figures with cold skin and vacant eyes: an image so chilling it would be preserved through six generations of Inuit oral history.
The men were the last survivors of Franklin's lost expedition to the Arctic, but to the Inuit who met them around 1850 they were only grisly, starving beings who appeared from nowhere. They built the men an igloo and a fire, left them three whole seals to eat and slipped away from the camp in the night.
When they returned later in winter, the seals were untouched; it appeared the men had instead eaten each other.
The ultimate cause of the Franklin crew's deaths—and the strange behavior recounted in stories like this one, recorded by a historian from an oral account—has been a longstanding mystery. Cutting-edge research by a team including Joyce McBeth (geological sciences) may have found an answer.
Using the Canadian Light Source synchrotron at the U of S and tools at two other universities, the team analyzed tissue from a 170-year-old thumbnail recovered from a member of the doomed expedition. They concluded that lead poisoning—long believed to have afflicted the crew—was not a major factor in the crewman's demise.
Instead, they found the man had a severe zinc deficiency that could have led to immune-suppression and eventually tuberculosis and death. Malnourishment and zinc deficiency also cause psychological symptoms similar to lead toxicity, potentially explaining the odd behaviour of the crew.
The team's research is published in the Journal of Archaeological Science: Reports.