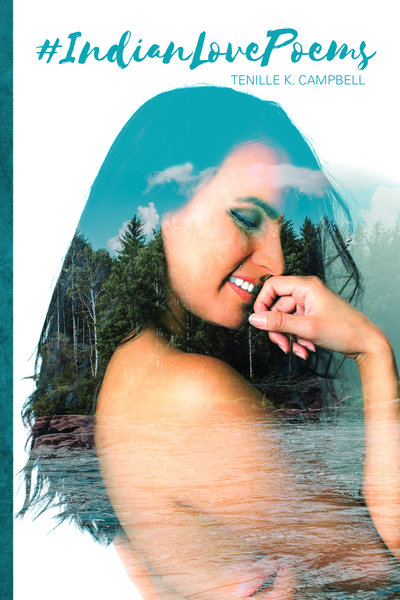 Tenille K. Campbell's debut poetry collection has been shortlisted for two Saskatchewan Book Awards.
(This article was first published in the March 26, 2018, edition of the Saskatoon Express.)
By Shannon Boklaschuk
Poet. Academic. Photographer. Businessperson. Blogger. Mother. PhD student.
Tenille K. Campbell wears many hats, and she can now add another description to her long list of roles and accomplishments: Saskatchewan Book Awards finalist.
Campbell's acclaimed book, #IndianLovePoems, has been nominated in two categories: O'Reilly Insurance and the Cooperators First Book Award and Rasmussen, Rasmussen & Charowsky Indigenous Peoples' Writing Award.
"I was really excited," Campbell said of learning the news.
However, because she doesn't tend to "run in writers' circles," Campbell said being shortlisted seemed to come "completely out of the blue."
"But I'm super happy and I'm up, or I'm with, some amazing writers," she added.
Campbell is a Dene and Métis writer and photographer from the English River First Nation who is currently pursuing a PhD at the University of Saskatchewan in English. She previously completed her Master of Fine Arts degree in creative writing at the University of British Columbia.
In #IndianLovePoems, Campbell dives into Indigenous intimacy and romance – and does so with her characteristic sense of humour. Campbell describes her debut poetry collection as "a book of love stories about lust and romance and sex and one-night stands." Although the book isn't about regrets, there is some "shaking of the head in the morning," she said with a laugh, and the stories are "all told through the lens of an Indigenous woman and told tongue-in-cheek, with humour."
Campbell said she drew on her own experiences with sex and dating when writing the poems. Since she talks candidly about those topics with her friends, their experiences also helped inform her work.
"There's a lot of personal stories in here – I'm not saying which ones – but they're told in first person, so I carry the responsibility of having the weight of all the stories, which is fine," said Campbell.
"But they're definitely some in there that belong to my friends and were given permission to share – so that was interesting collaborations of truth, I guess."
While Campbell had fun writing the book, she also felt it was an important project. She has since seen women and men reading #IndianLovePoems who have never previously read a poetry book – and yet they have consumed hers in one sitting.
Campbell's poetry collection has been generating buzz since its release; for example, it was included on the CBC Books great Canadian reading list, which featured 150 books to read for Canada 150. She was also named a CBC Future 40 winner for 2017 in the Arts, Culture and Entertainment category.
As Campbell's star as an author rises, she remains busy with other ventures; for example, the 34-year-old mother of one is also the owner and artist behind Sweetmoon Photography, which specializes in photographing Indigenous people. As well, she is the co-creator of tea&bannock, an online collective blog that features the work and stories of Indigenous women photographers from throughout Canada. The blog can be viewed at teaandbannock.com.
Another big focus is her PhD work. Campbell's thesis will focus on community-based research on her home reserve of English River First Nation. She will interview family members living both on and off reserve and examine the ties between family stories and kinship.
"I'm hoping to bridge the gap, or just reinforce the idea that family stories are the first step into culture and community – and how can you know who you are if you don't know who, and where, you come from?"
If Campbell wins a book award, she said she will feel proud, noting that it would be "really cool to see an acknowledgement" of her work. Although she notes she is not alone in writing about Indigenous erotica, her book is currently one of the most public – and winning an award would emphasize "that you can write about Indigenous erotica with humour, and it doesn't have to be serious and sad."
"I think it's important," she said.
The Saskatchewan Book Awards celebrate excellence in publishing and writing. The 25th awards ceremony will be held on April 28 at the Conexus Arts Centre in Regina. CBC's Zarqa Nawaz, the creator of Little Mosque on the Prairie and the author of Laughing All the Way to the Mosque, will host the evening.
To purchase tickets, or to view the full list of awards and nominees, go online to bookawards.sk.ca.