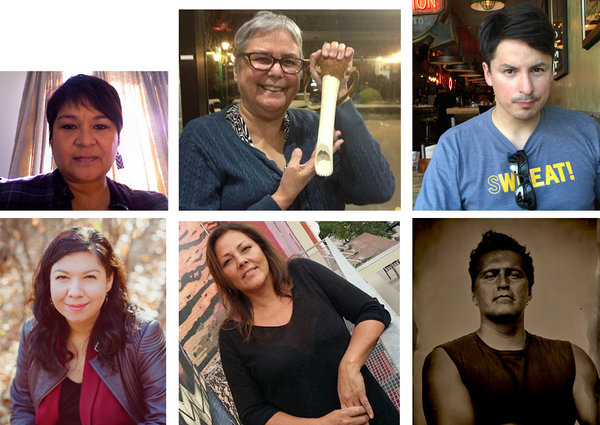 Clockwise from top left: Lori Blondeau, Ruth Cuthand, Wally Dion, Adrian Stimson, Mary Aski-piyesiwiskwew Longman, Tasha Hubbard
On May 22, The Hnatyshyn Foundation presented the inaugural REVEAL Indigenous Art Awards to honour Indigenous Canadian artists working in all artistic disciplines. Six College of Arts & Science faculty and alumni were among the 150 laureates who received cash awards of $10,000. They include: Lori Blondeau (MFA'03), Ruth Cuthand (BFA'83, MFA'92), Wally Dion (BFA'04), Tasha Hubbard, assistant professor of English and alumna (BA'94, MA'06), Mary Aski-piyesiwiskwew Longman, associate professor of Art and Art History and Adrian Stimson (MFA'05).
The Awards are intended to recognize Indigenous artists working in traditional or contemporary practices who have shown leadership in their home communities and on the world stage. The program is also meant to fuel the creation of new artistic works and leave a lasting cultural legacy.
The laureates received their awards on during a special ceremony in Winnipeg hosted by the Lieutenant Governor of Manitoba. The names of the laureates, along with information about their artistic practice is available on The Hnatyshyn Foundation's website.
The Hnatyshyn Foundation is a private charity established by the late Right Honourable Ramon John Hnatyshyn (BA'54, LLB'56), one of the College of Arts & Science's first 100 Alumni of Influence and Canada's twenty-fourth Governor General.