Public Programs
Fascinating Fossils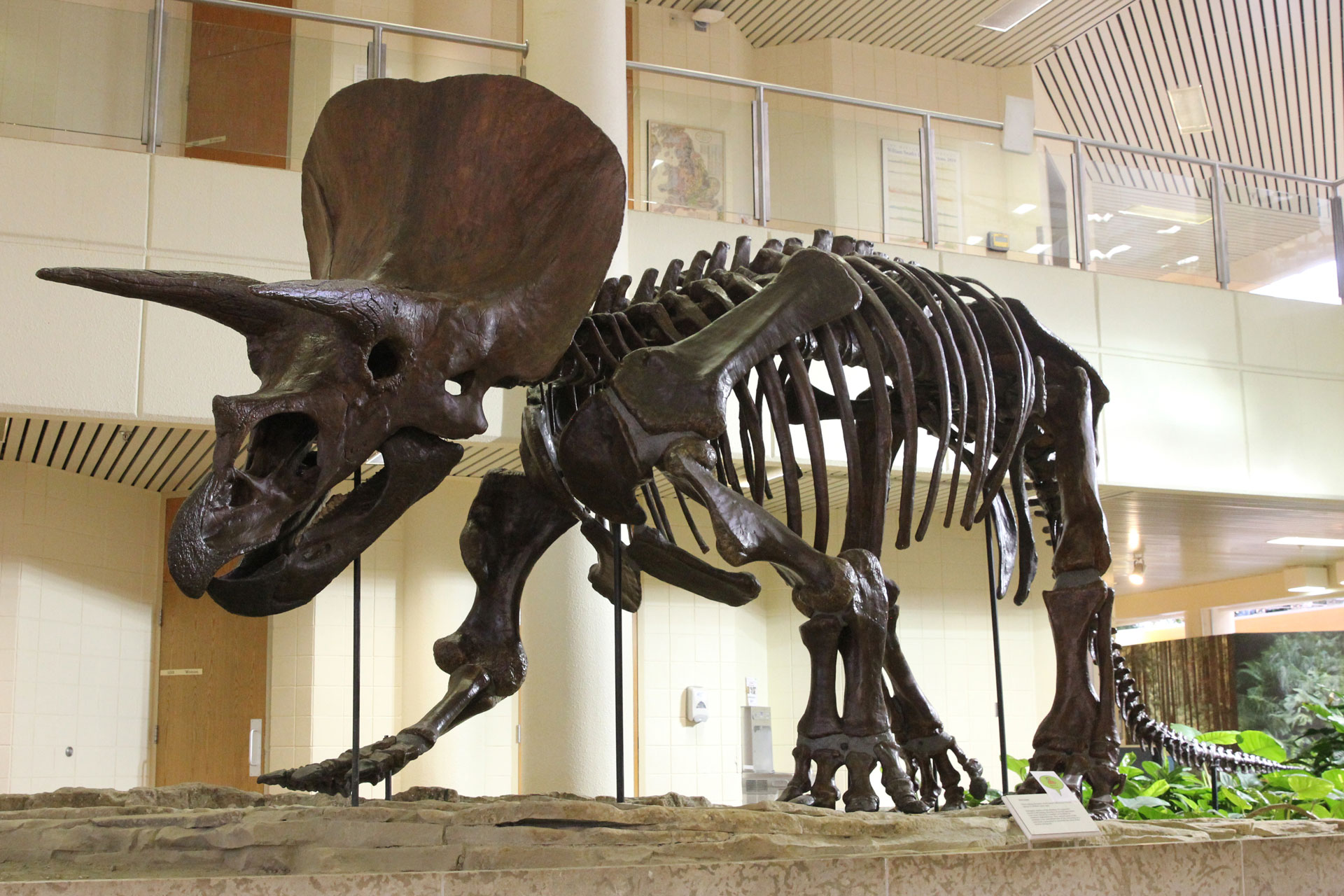 Saturday, November 19, 2022
10:30am-1:30pm
Museum of Natural Sciences
FREE and drop-in

Come and meet a real-life paleontologist! He will be working on a Triceratops tibia from a bone bed in southern Saskatchewan. Learn about how are fossils are found and what happens next so that we can study them and uncover the stories they tell us about life on Earth in the past. We will also have hands-on paleontology activities, resources and tours to help you explore the museum, and a younger kids' activity area.
Self-Guided Tours
Museum Scavenger Hunt Tour
Are you looking for a fun challenge, and to learn more about the museum? This scavenger hunt tour will lead you through the central area of the museum where we have fossil skeleton replicas and live plants and animals, and the first and second floor hallways of the Geological Sciences Building where we have minerals, rocks, and fossils.
Downtown Saskatoon Tour
This guide will help you to find all kinds of surprises in downtown Saskatoon! Many of the buildings use Tyndall Stone, a sedimentary rock that was formed 450 million years ago. It contains the fossils of animals and plants that lived then in a shallow sea that covered much of our continent. Learn about some of the fossils, the history of the buildings, and go on some scavenger hunts.
School Visits
Self-Guided Visits
You are welcome to visit with your class anytime we are open, and you do not need to book in with us. These resources may help you plan your visit:
Geological Sciences Outreach
As capacity allows, we may be able to offer some guided sessions in paleontology and geology to classes throughout the year. Please contact us if you are interested in getting more information.
May/June Field Trip Program
The Museum of Natural Sciences field trip program is a seven-week in-person program offered in partnership with Science Outreach, USask science departments, USask museums, and galleries, and community groups. We offer hands-on activities and tours in paleontology, rocks and minerals, biology, chemistry, math, physics, archeology, astronomy, and antiquity. The sessions take place in the Museum of Natural Sciences, teaching laboratories, and other campus cultural facilities.
Registration opens in March. To get notified, follow us on Facebook, Twitter, or Instagram, or contact us to be added to our e-news.
GeoExplore Saskatchewan
Visit
GeoExplore Saskatchewan
to learn about the geoscientific wonders that Saskatchewan has to offer: meteorite impact structures, fossils, ancient mountain belts, waterfalls, and so much more! There is also an interactive map full of locations to explore in person.