History Co-Lab
A Centre for Community-Engaged and Collaborative Historical Research
The History Department's Co-Lab (the Collaboratorium for Community-Engaged Research) is designed to facilitate research partnerships between the University of Saskatchewan and community partners in ways that communities themselves identify as meaningful and beneficial. Rather than merely bringing research and analysis to communities (outreach), the Co-Lab starts from the assumption that research projects should be co-designed and co-executed with communities. Through trustful relationships, faculty and mentored students work with community partners to co-create new knowledge that meets the highest academic standards while addressing intimate community needs.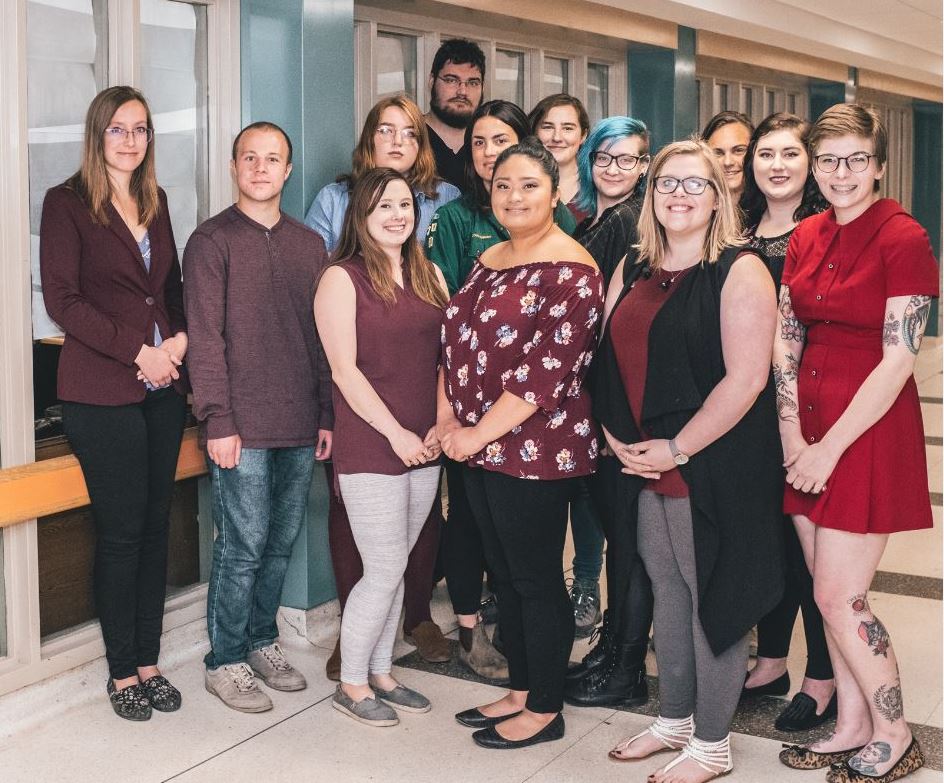 To date the Co-Lab has supervised more than 40 students working over a dozen projects for community partners like the City of Saskatoon, Flying Dust First Nation, and the Prince Albert Grand Council. 
The Co-Lab aims to build meaningful and respectful partnerships with Indigenous and non-Indigenous communities through collaborative historical research project on topics meaningful to the participant communities. 
Process: To process is fairly simply. Community partners develop research questions that are meaningful to them, provide funding to support the summer student research interns, and assist in the execution of the research and the interpretation/communication of the findings.  The Co-Lab provides the training, oversight, expertise, and infrastructure to support the project and helps to build capacity for historical research within the participating community.
 The Co-Lab/University Provides:
Various in-kind, and some monetary resources to seed or match and enrich the contribution the community provides
Office space and computer equipment
Hiring of student researchers
Intensive training in research methodologies and related topics, and administrative and academic oversight to highly qualified students.
Funding to enable the student to travel to and meet and collaborate with the Indigenous community partners
The Co-Lab offers both single year and multi-year partnerships and is flexible about the size of projects it takes on.
Cost of Participation: The cost of participation varies by project and is directly related to the number of summer students employed. The majority of projects utilize between a single half-time student and up to three full time students per year with each full-time summer student costing approximately $15,000. In multi-year partnerships the university may provide additional seed funding to help offset the cost of the partnership.
For more information about establishing a partnership contact the Co-Lab's Director, Dr. Cheryl Troupe
The Co-Lab provides undergraduate students with advanced historical training through paid summer internships that combine formal instruction, experiential learning, peer learning, community-engagement and mentored participation in original research projects. The Co-Lab hires more than a dozen student researchers each summer to conduct original research in collaborative partnerships with communities.
Training Provided: During the first two weeks of May, students receive intensive methodological training related to a wide range of topics including database construction, archival research, genealogy, oral history, etc.
Summer Research: Once training is complete, students work with community partners to draft a research plan in consultation, and then conduct original research under the guidance of both a faculty and a graduate mentor. Undergraduate student researchers also communicate and collaborate regularly with their community partner to ensure ongoing feedback and direction. 
Apply: To apply to work as a student researcher contact Co-Lab Director Dr. Cheryl Troupe.
 Interviews and hiring for positions generally occurs in February.
In the landmark Supreme Court legal decision of R. v. Gladue in 1999, the court recognized the systemic nature of settler colonialism within the Canadian state and its contribution to the overrepresentation of Indigenous individuals within the criminal justice system. R. v. Gladue clarified that courts must accord judicial notice to the negative impact of colonialism on Indigenous communities and individuals in Canada, and must also seek alternatives to incarceration that are rehabilitative and which align with Indigenous cultural protocols. That is to say, Judges must now account for the historical legacy of settler colonialism in contemporary Indigenous people's lives prior to sentencing.  As a result, across Canada Indigenous people and their legal council have been providing Judges with what have become known as Gladue Reports -- comprehensive documents discussing the impact of colonialism on an Indigenous individual's life.
Other provinces took the lead in developing Gladue reports, but these have proven to be expensive (and therefore out of reach for many Indigenous people) and of varying quality.  In an effort to ensure that all Indigenous people within Saskatchewan have access to the historical resources needed to produce high quality inexpensive Gladue Reports, Legal Aid Saskatchewan partnered with the Collaboratorium to create a comprehensive database providing researchers with access to hundreds of primary and secondary source archival and oral history records that describe the impact of colonialism on Indigenous people in Saskatchewan. Over three successive summers three teams of undergraduate students have worked under the supervision of faculty and with the mentorship of a graduate student build and enrich this resource. The database, now nearly complete and ready to be launched, will be utilized by Legal Aid Lawyers and others, allowing the research conducted by undergraduate student researchers to have a direct impact on sentencing decisions across the province. This partnership, in other words, will result in all of Saskatchewan's Indigenous people being able to more effectively, efficiently, and inexpensively exercise their Gladue rights.  This initiative will make Saskatchewan the leader in the protection of Gladue Rights in Canada and wonderfully highlights the University's commitment to putting the talk of 'reconciliation' into action.