Literature Matters: The Lyric Voice in Lady Mary Wroth's Pamphilia to Amphilanthus
Posted on 2018-02-21 in Events
Mar 14, 2018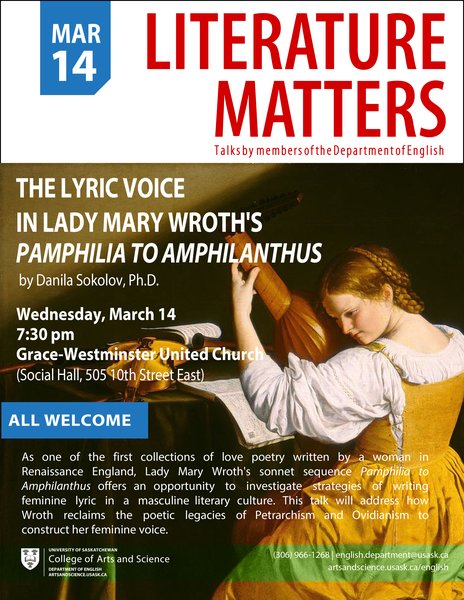 Literature Matters Talk by Danila Sokolov, Wed Mar 14. All welcome.
Literature Matters - Literature in the Community Lecture Series
Public Talks by Members of the Department of English
The Lyric Voice in Lady Mary Wroth's
Phamphilia to Amphilanthus
by Danila Sokolov, PhD
Wednesday, Mar 14, 2018 | 7:30 pm
Grace-Westminster United Church
(Social Hall, 505 10th Street East)
As one of the first collections of love poetry written by a woman in Renaissance England, Lady Mary Wroth's sonnet sequence Pamphilia to Amphilanthus offers an opportunity to investigate strategies of writing feminine lyric in a masculine literary culture. This talk will address how Wroth reclaims the poetic legacies of Petrarichism and Ovidianism to construct her feminine voice.
All are welcome.