Literature Matters: Literature in the Community lecture series
Posted on 2017-10-30 in Events
May 16, 2018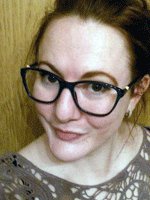 Elyn Achtymichuk-Hardy
Talks by members of the Department of English at Grace-Westminster United Church Social Hall, 505 - 10 St. E, Saskatoon, SK at 7:30pm. Everyone is welcome.
PhD Candidate Elyn Achtymichuk, "Does Tomorrow Ever Die? Reading Literature as Franchise or, Predicting the End of James Bond."
Elyn is interested in culture and gender in both literature and film. Her current research is on the legacy of Cold War anxiety on the James Bond franchise, with respect to the way the "Bond formula" has evolved—or not—in terms of fear, sexuality, and racial representations.