Congratulations!
Congratulations to William Stryker on being awarded the Governor General's Medal!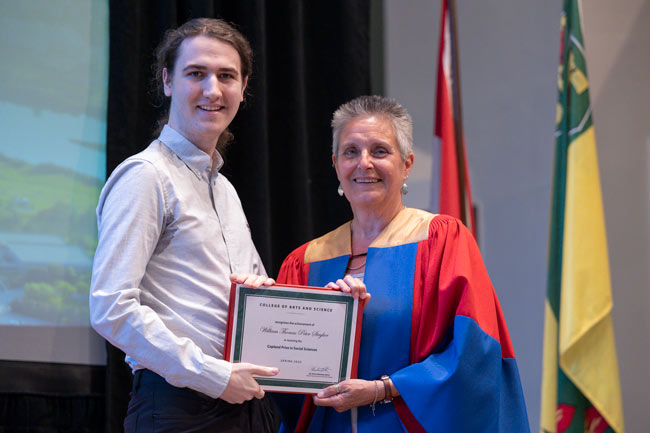 William Stryker and Dean Peta Bonham-Smith
William Stryker
Governor General's Silver Medal
Copland Prize in Social Sciences
Lewis C. Gray Prize in Economics
A great place to start
Economics is the science describing the production and distribution of wealth. The undergraduate economics program provides students with the theoretical and empirical tools to comprehend, assess, and analyze the many pressing issues and problems of society in an economic context. Areas of study include basic and advanced economic theory, public policy, health, labour and regional development, as well as the quantitative and historical aspects of economics. 
An undergraduate degree in economics provides an excellent academic background for students interested in advanced studies in accounting, business, commerce, communications, finance, international studies, journalism, law or politics. A Master's or Ph.D. degree can be a significant advantage in terms of career opportunities. The University of Saskatchewan's highly regarded undergraduate economics program has provided our students with solid foundations to successfully pursue advanced degrees in economics at the U of S as well as in leading universities in Canada, the U.S., the U.K. and France.
Careers
There is a wide spectrum of professional opportunities available to economics graduates. Many pursue professional careers in government or in international organizations such as the United Nations, the World Bank and the International Monetary Fund. Economic experts are increasingly in demand as the business world globalizes and becomes increasingly high-tech in nature.
Students with training in economics are actively recruited into the job market locally, nationally and internationally for positions related to corporate policy, business management, intellectual property, international development, international trade, marketing, price analysis, community development and resource management.
The brief video (8mn.), developed by The American Economic Association, will be of interest to students considering a career in economics A Career in Economics
The U of S Advantage
The Economics program at the University of Saskatchewan is respected across Canada. It offers a well-rounded curriculum that delivers solid classroom instruction combined with intensive tutorials. The faculty members of the Department of Economics are leaders in their fields and are widely published in topics covering the spectrum of quantitative, theoretical and historical economics.

One of the unique advantages to the U of S program is a new Work Experience Internship Program that not only gives students practical work experience in the areas they have been studying but also involves them directly in the local business community.
Studying at the U of S: A Student's Perspective
by Dolapo Fadare
This is long, so please grab a coffee or tea and enjoy :)
Why Economics
When I was completing high school, I vividly recollect being torn on which career path I wanted to take. I wanted to pursue international law but was also interested in business and at the same time considering the possibilities of working in politics. So, at the end of my grade 12 year, I had narrowed down that I would pursue either political science, economics or international relations. Eventually, I chose to stick with an Economics degree because it provided the opportunity to dive into different sectors. Yet at the same time it opened the window that gave a glimpse into how the country and the world operates. Those two things helped satisfy my hunger to use my work as a way to also contribute to the world around me.
The theories learned from the school of thought can be applied to 3 major sectors; civil society, public sector and enterprise. Beyond the class room however, I wanted to better understand the details and complexities of each of the areas. Within the civil society, I volunteered with local organizations that were assisting new immigrants get settled in Canada. In addition, I participated in Model United Nations conferences by Harvard University and McGill University. One of the resolutions we were working on included disarmament of nuclear weapons. My experience in this sector allowed me to better understand the nuisances in trying to integrate multiple stakeholders. However, it also nudged me towards exploring the roles that governments play in the implementing policies.
Different Paths
Hence after my first semester, I worked for the Government of Saskatchewan as a Ministerial Assistant to the Executive Council. From there I was able to understand the processes of policy making but I decided to switch to the private sector. For a little over a year, I worked for a startup company called Townfolio. Townfolio is a marketplace that connects investors with business ideas all over north America. Working for the company for about a year made me become more fascinated with tech and the start-up world in general. My interest in entrepreneurship led me to being accepted into the Cansbridge Fellowship. The program is a network of high impact leaders and entrepreneurial young professionals throughout the world. Alumni of the program have moved on to work for Google, Microsoft, IBM and so on. Part of the program involves doing an internship in Asia. As a result I am currently working in Shanghai for Zx Ventures eCommerce Team as a summer intern.
Now you're probably tired of me talking about myself. So, let's switch gears: How can you pursue unique opportunities that helps you better understand your degree? But first of all I am going to explain why it is important to pursue additional activities with your degree.
Why Should You Do More Than Get Good Grades?
Given a changing labour market, it is key to ensure that as a student, one is getting practical experiences beyond your degree. In today's world, just having high marks does not guarantee a door into the career path plainly because the labour market is competitive and saturated with talent. The best way to distinguish yourself from a crowd of resumes is to keep the following things in mind. Employers or program coordinators want to see if you have hard and soft skills; those are gained through the other activities that one participates in. This entails both on campus activities and those that are pursued out of interest. Whether it is sports, arts, or even running a failed business idea it is key to communicate four things: why did you start or participate in the said activity, how did the activity challenge you, what did you contribute to the team and lessons you learned. These answers should be evident through the details explained in your resume.
Now to the main tea: Finding Unique Opportunities
Each and everyone have different fields that interests and peaks your interests. So to be relevant, I will share a general approach. There are multiple channels available today that you can use find conferences, networking events, programs, and organizations that might align with your interests. If you're not sure on the career path you want to follow, do not fret! Getting involved is a great way for you to cross eliminate the fields that you're both strong in and/or have a passion for.
Channels
    Social Media
                There are various groups you can join on Facebook that lists unique opportunities, applications, tips on getting into different programs. So use the search for more than just stalking strangers! One great one to start with is Applications, Materials, Links, Opportunities, and Connections.
                In today's globally connected world, having a good LinkedIn profile is important. It gives you the opportunity to connect and reach out to people that are in the same field of interest. For instance, if you found a program you want to apply to, LI would be the perfect place to find alumni of the program. Once you do, email or message the and to gain more insight that might not be posted on the website.
Model United Nations and Youth Opportunities Planet
               Although the website is primarily to find Model United Nations Conferences all over the world it also has a lot of other useful links. It includes but not limited to international conferences, paid & unpaid internships, fellowships etc.
               If you're interested in tech, attending Hackathons is a great way to rapidly develop skills and to also gain exposure to the big companies such as Microsoft, Amazon etc. Tech does not mean you have to be an engineer or a computer scientist! It encompasses several other departments including arts, design, marketing, sales etc as long as you like solving problems. So don't be shy to participate in a local hackathon such as Med.Hack to get your feet wet.
               I am sure you've all gotten an earful of how important networking events. Apart from the free food, as a student the events also gives a glimpse into an industry. To have a better return on your time, I would suggest to first: try and talk to 2 new people. Second, reach out to the speakers or panelists from the event to meet for coffee. Oh and of course you can find great events on Eventbrite, Picatic or the USASK News Bulletin
I am sure I have lost half of you at this point. But if you made it to the end, thanks for sticking it through. I also hope that you found part of this useful. To make it clear, I am not an expert in this and still working on navigating my career and life in general. But the one thing I know for sure is that the pursuit of continually improving yourself is chaotic but yet rewarding . Feel free to shoot me an email if you have any questions at dolapo.fadare@usask.ca. Continue to dig deeper, dream bigger, and grow stronger.