Greystone Theatre: Spirit Wrestler
Posted on 2018-03-07 in Events
Mar 21, 2018 to Mar 31, 2018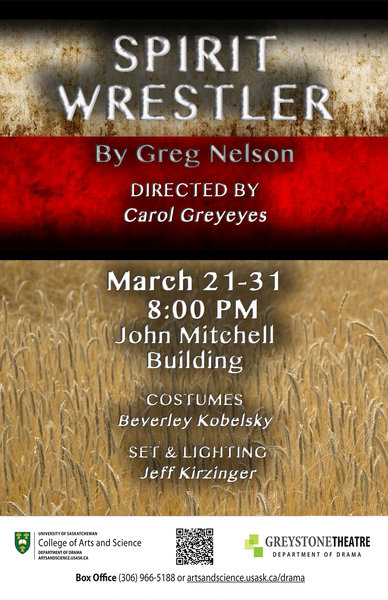 Greystone Theatre presents:
Spirit Wrestler
by Greg Nelson (BA' 88)
directed by Carol Greyeyes
March 21 - 31 (no show on Sunday March 25)
8:00 pm
John Mitchell Building, 118 Science Place
A people persecuted, dispossessed, dying from starvation and disease, looking for refuge – a place to live and worship in peace – looking to Canada for a miracle. Despite its parallels to the current refugee crisis, Spirit Wrestler is about the Doukhobors who fled Russia in the late 1800's seeking religious freedom and a new life in Canada and Saskatchewan. It is the story of Nikolai, a young and idealistic Russian Doukhobor and his journey to selfhood. As he wrestles with personal and community dilemmas, he must choose between obedience to the vison of his religious leader and the truth in his heart and spirit. A beautiful, uplifting play about human struggle and enduring faith.
To purchase tickets, call 306-966-5188 or visit the Greystone Theatre website.