Journey to the top of Mount Olympus and meet the Gods! In this exciting module Adventurers will become acquainted with the gods and titans of old. You'll learn all about the most exciting Ancient Greek mythology and what made each of the gods unique.
Lessons
Learn about the 12 Olympian gods (+ two bonus gods!) and their symbols.
Crafts
Greetings mortals! Look like the Greek god of thunder and lightning with this fun craft.
Stories
Read about the Greek hero Odysseus' adventures, as he is met with danger along his journey home to Ithaca.
Listen to the narrated version or click the link to read along on Calameo.
Fun Activities
Olympian Gods Matching Activity
Once you have watched the Olympian gods lesson, give this fun activity sheet a try!
Here is a fun activity sheet to go with the Curator's Corner blog on Athena. How well do you know the goddess?
Try colouring the Museum of Antiquities' Mourning Athena sculpture for yourself!
Curator's Corner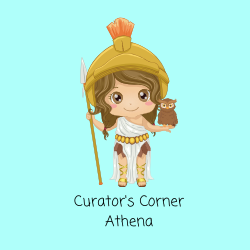 The Museum of Antiquities' curator, Dr. Tracene Harvey, brings you the story of the Greek goddess Athena and the artworks in the Museum that picture this beloved goddess.
Links to Other 6-7 Content