Two Events feature Author Ross King
November 4, 2013 to November 5, 2013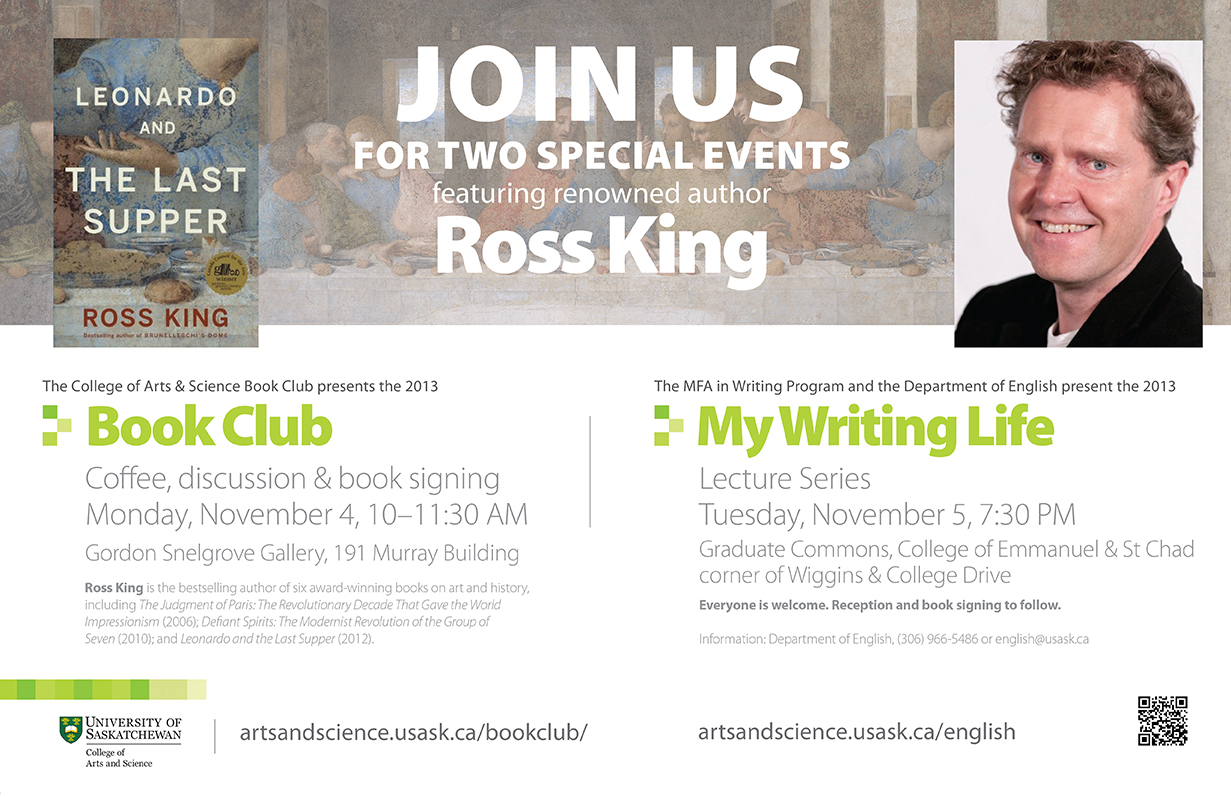 WINNER of the 2012 Governor General's Award for Non Fiction
LEONARDO AND THE LAST SUPPER
By Ross King
"Himself an exceptional portraitist and craftsman, King brings to precise life a fully dimensional, irresistibly audacious, and wizardly Leonardo and his powerfully affecting, miraculously surviving mural…Readers will love the dramatic, vivid, and brainy mix of biography and art history King, the best-selling author of Brunelleschi's Dome, cooks up." – Booklist, starred review
Leonardo da Vinci's genius is undisputed, and his spectacularly successful posterity belies the true state of his affairs when he began work on his masterpiece, The Last Supper. He was in a state of financial difficulty and professional uncertainty. He was past the age of forty in a time when life expectancy was forty. He had left several major commissions abandoned, unfinished, with the patrons dissatisfied, and occasionally litigious. He was recognized as a genius by a few cognoscenti in Milan, but most of his best work was tucked away in private homes, and he had despite a number of prestigious commissions, to complete anything that truly fulfilled his astonishing promise.
In 1495 he began painting what would become one of history's most influential and beloved works of art—The Last Supper. Da Vinci was an odd choice for the job—not only had he never worked on a painting of such a large size—fifteen feet high by thirty feet wide—but he had no experience in the extremely difficult medium of fresco.
In LEONARDO AND THE LAST SUPPER, Governor-General Award winning author Ross King explores how Leonardo created the masterpiece that would forever define him. The mural was responsible, far more than any of his other works, for his reputation as a painter (the Mona Lisa was for all intents and purposes invisible to the public before the nineteenth century).
King unveils stories that are embedded in the painting and looks critically at a number of myths and popular misconceptions. Mary Magdalene does not appear in the mural, a supposition brought to fame by The Da Vinci Code, and clearly shows that the figure to Christ's right is the apostle John. Nor was the same model used for both Judas and Christ. Leonardo did, however, use himself as a model twice in The Last Supper, and, for all of those who have claimed he was irreligious, he remained a devout Catholic even as he constantly searched for truth in nature. The food that Leonardo, a famous vegetarian, placed on the table reveals as much, as do the numerous hand gestures of those at Christ's banquet.
Not only does the painting tell a story from the Gospels, it has its own story, one that King brings to life as well as a fascinating period in European history, and presents a portrait of one of the world's most brilliant minds through the lens of his most famous work.
About the author:
Ross King is the bestselling author of five books on Italian, French and Canadian art and history. He has also published two historical novels, Domino (1995) and Ex-Libris (1998), and edited a collection of Leonardo da Vinci's fables, jokes and riddles. Translated into more than a dozen languages, his books have been nominated for a National Book Critics' Circle Award, the Charles Taylor Prize, and the National Award for Arts Writing. He has won both the Governor General's Award in Canada (for The Judgment of Paris) and the BookSense Non-Fiction Book of the Year in the United States (for Brunelleschi's Dome).
Born and raised in Canada, Ross has lived in England since moving to London for post-doctoral studies in 1992. He lives near Oxford with his wife Melanie, also a writer and historian.