"Becoming Water: Art and Science in Conversation" available for online viewing
Posted on 2017-09-08 in Arts & Culture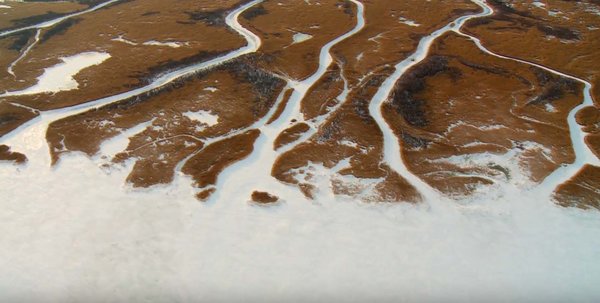 "Becoming Water" film still: river delta at Cumberland House
A 15-minute documentary film directed by Ian Toews (291 Film Co) during a collaborative, interdisciplinary course taught by Professor Susan Shantz (Art & Art History) and Assistant Professor Graham Strickert (School of Environment & Sustainability) in May 2017 is now available online.
"Becoming Water" was a course for senior and graduate art students that bridged art and science as well as traditional and local knowledge. It featured field trips to the Saskatoon water treatment plant, Saskatchewan river delta at Cumberland House, the Gardiner Dam and Mistaseni rock.
Artist and author Basia Irland (professor emerita, University of New Mexico) participated in a mini-residency with the class and Metis guides and hosts, Gary and Karen Carriere, at Cumberland House.
"Using our local waterway, the South Saskatchewan River, as a "case study" and artistic inspiration, students in the course explored the multiple perspectives from which to consider water—environmental, social, cultural and political—to reflect on the complexities of our very intimate relationship with water," says Shantz.
The film debuted in July at Shakespeare on the Saskatchewan's Late Night River Cafe.