Alumni of Influence Gable and Waiser named to Order of Canada
Posted on 2017-07-05 in Arts & Culture, Alumni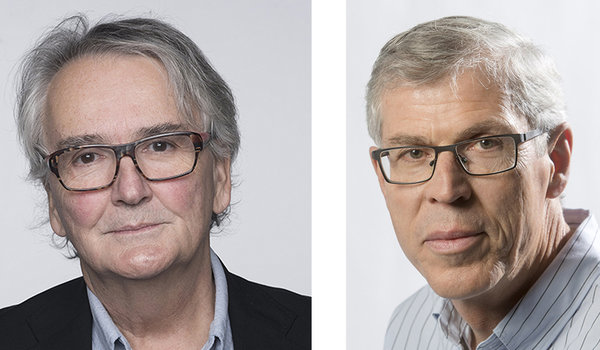 Brian Gable and Bill Waiser
Alumni named to Order of Canada
Two alumni of the College of Arts & Science have been announced among this year's appointments to the Order of Canada.
Historian Bill Waiser (MA'76, PhD'83, DLitt'10) and editorial cartoonist Brian Gable (BA'71) will be named members of the Order of Canada at a ceremony to be scheduled later this year. Both Waiser and Gable received the College's Alumni of Influence Award in 2016.
Waiser, an author and historian who recently retired from a 30-year career in the college's Department of History, received the 2017 Governor General's literary award for non-fiction for his book, A World We Have Lost: Saskatchewan Before 1905. His definitive history of the province, Saskatchewan: A New History, was awarded the Clio Prize by the Canadian Historical Association.
Waiser was appointed A.S. Morton Research Chair in 2010 in recognition of his dedication to engaging the public in Saskatchewan's history. That same year, the university honoured his contributions to western Canadian history, environmental history and public history with an Earned D.Litt and in 2011, he was named a Distinguished Chair. He left the university in 2014 as a Distinguished Professor Emeritus. He is also a recipient of the Saskatchewan Centennial Medal (2005), the Saskatchewan Order of Merit (2006) and was elected a Fellow of the Royal Society of Canada in 2007. He currently writes a bi-weekly column, "History Matters," for the Saskatoon StarPhoenix.
Renowned editorial cartoonist Brian Gable grew up on a farm near Rosthern, Sask. where he attended a one-room school. During a first year English class at the University of Saskatchewan a fellow student, noting Gable's endless doodling in the margins of his notes, mentioned that The Sheaf was looking for a cartoonist. Over the next three years he submitted cartoons to the student paper and took his first tentative steps in learning about the craft of satire.
Gable graduated from the U of S with a BA in 1971 and went on to receive his BEd from the College of Education at the University of Toronto in 1971. After teaching school in Ontario for nine years, Gable went to work for the The Regina Leader Post as an editorial cartoonist in 1980. He remained there until 1987, when he accepted a position as editorial cartoonist for The Globe and Mail, a position that he still holds.
Gable's work has appeared in The New York Times, The International Herald Tribune, Time Magazine, The Guardian, Prospect Magazine and numerous other publications. He has been nominated for the National Newspaper Award 15 times and has won the award seven times, most recently in 2017.