News
Alumna takes opera competition title
Originally posted February 2016
Convocation Hall played host to some of Saskatchewan's most promising opera singers Feb. 20 and 21, 2016.
Organized by the Saskatchewan Music Festival Association, the Gordon Wallis Opera Competition is held biannually, alternating between Saskatoon and Regina. It is open to Saskatchewan residents, ages 20 to 35, who live in the province, or are students in programs studying abroad but maintain their Saskatchewan address, and are not professional singers.
This year's competition was won by Allison Walmsley (BMus'15)—a former student of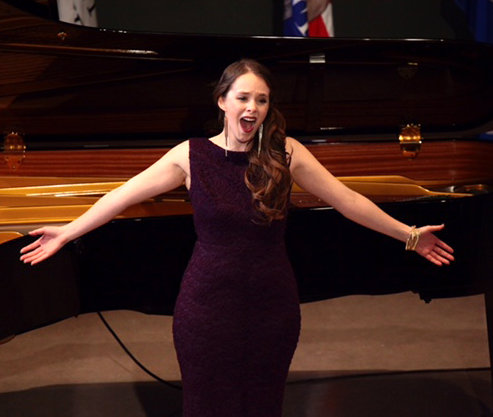 Professor Garry Gable and Kathleen Lohrenz-Gable from the University of Saskatchewan—who is currently pursuing a Master's degree in music at the University of Western Ontario. The judges—Robyn Driedger-Klassen of Vancouver, and Michelle Capalbo of New York City—noted Walmsley's high degree of polish and performing energy as factors in their decision.
For winning this competition, Walmsley will receive a $5,000 scholarship and also get opportunities to perform with the Saskatoon and Regina Symphonies in the coming seasons.
Walmsley's win now makes six current or former students U of S students since the competition's inception in 1998. Five were/are students of Associate Professor of Voice in the Department of Music, Dr. Garry Gable, including Laurien Gibson, Sarah Vardy, Jordie Hughton, Chelsea Mahan, and now Allison Walmsley. Another UofS graduate and winner was Whitney Mather, a student of Sessional Lecture Janice Paterson, also in the Department of Music.
This competition is made possible due to a generous donation from the estate of Professor Gordon Wallis, a former assistant director of the University of Regina, Conservatory of Music and Dance. Wallis was a consummate musician, musical director, performer, and acknowledged authority on opera. His extensive collection of opera material – complete operatic scores, recordings, libretti, books, documents, periodicals, and programs from every major opera house in the world – are housed in the Gordon C. Wallis Opera Resource Room in Darke Hall in Regina.