News
An interview with artist-in-residence David Braid
Originally posted September 2015
Canadian composer and Juno-winning pianist David Braid has been named an artist-in-residence at the College of Arts & Science. He will be on campus Sept. 30 through Oct. 14 to teach a one-credit course about creativity, deliver a public lecture and perform at several shows.
We spoke to him by phone in early September. Here's our conversation.
Q: HOW DO YOU TEACH CREATIVITY?
DB: My goal is to get students to understand there are two different intelligences – the Theoretician, who is left-brain, analyzing, breaking things apart, and the Artist Child, who is spontaneous, who gets excited to play music, who chose to go to music school. These intelligences have different roles in the learning and performing processes. Great musicians seem to be strong in both. Stravinsky is the perfect example. His structure and craft as an orchestral composer is unparalleled. He could talk about every detail and why it was there: craft and analysis, plus an intuitive process. His "Rite of Spring" seems to have come out of nowhere, this incredible new type of creativity, the feeling that music feels entirely spontaneous.
Q: WHAT DRAWS YOU TO JAZZ?
DB: At seventeen, I heard a symphony by Mozart, and became interested in the architecture of music: how does one build that? I listened and imitated at the piano. I bought some big score paper, trying to write a symphony. It's ridiculous to think about—I had no theoretical education, was trying based solely on intuition. My high school music teacher was a jazz guitarist; he said, "Check out jazz. You improvise—that's like composing spontaneously."
Q: YOUR CANON INCLUDES MUSIC INSPIRED BY PAINTINGS DISCOVERED IN THE CHAUVET CAVE IN SOUTHERN FRANCE AND SOME INTERESTING COLLABORATIONS. WHAT OTHER FORMS OF CREATIVITY ATTRACT YOU?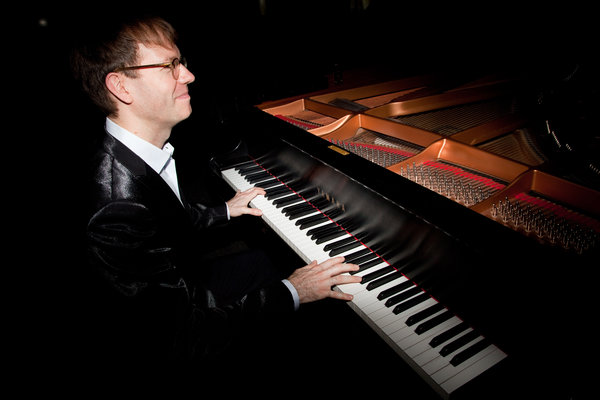 DB: Ten years ago, I was fine with being called a jazz pianist. But five or six years ago, I asked myself a bigger question: "Why am I doing this? So I can work? Spend the rest of my life just learning to be more competent?" I wanted to find my own voice. I started to work with duos. Matt Brubeck, who plays jazz cello. Clarinettist, composer, bandleader Phil Nimmons. That improv wasn't typical of free jazz: it had structured melody, spontaneous composition with melody, rhythm, harmony and form, improvising textural elements onto something composed.
I stopped playing with anyone. I spent a lot of time studying solo piano, taking things I liked, avoided what I didn't like. I made significant steps towards my own music, but began collaborating with mostly European classical string quartets that were open to partly composed, partly improv. (In Europe, young string players are taught improv.) It was eye-opening, thinking about every note and phrase. It helped me to demand that level of detail in my compositions to communicate with these musicians.
Q: WHAT ADVICE CAN YOU OFFER EMERGING MUSICIANS ABOUT MASTERING THEIR CRAFT?
DB: Do not feel that only special people become really great musicians. Doing something great is available to everyone, as long as you become an excellent problem solver and know what to work towards.
Time and dedication is required, and the tools and understanding of what to work towards, but all that knowledge won't produce results except over time. A long time.
The reality is what an irrational amount of time it takes to develop as an artist. The amount of energy in kilojoules and the probability and competitiveness and financial return for the time put in seem irrational on a practical scale. We still do it.
Q: WHAT MUSICIANS WOULD YOU LIKE TO COLLABORATE WITH?
DB: I wouldn't say I want to collaborate with a group by the merits of their name, but with musicians by merit of their creative spirit, who are absolutely dedicated to creating uncompromising music. However, they all recognize that the audience is a fundamental part of the musical experience and should not be ignored. Music can be highly interesting on a theoretical level but the audience can be totally disengaged from what's going on. I want to collaborate and make music so the audience is touched and engaged in the performance. I choose musicians who don't compromise their art form and don't ignore the audience.
Q: WHAT ATTRACTS YOU TO SASKATOON?
DB: I've come to Saskatoon about once a year for the past eleven years, for the Jazz Festival and Jazz Society. I come in as an artist to a small community, small enough that it feels like the interpersonal relationships between people are important and connected, but large enough to have a vibrant arts scene. The audience listens, is attentive, intelligent. That is highly rewarding.
For a listing of David Braid's projects and recordings, visit www.davidbraid.com