News
Study gives insight into roots of Idle No More
Bonita Beatty, a professor in the Department of Native Studies, is quoted in the following article that appeared in The StarPhoenix. Go to the article

Study gives insight into roots of Idle No More
By Jason Warick, The StarPhoenix, February 4, 2013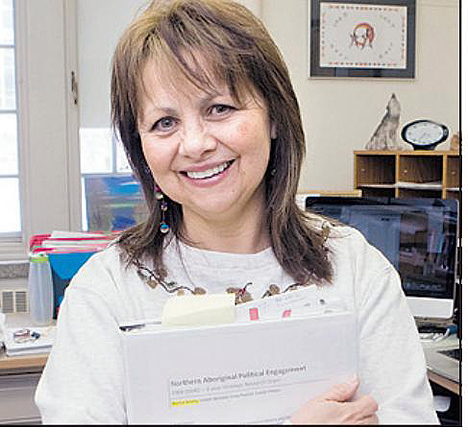 U of S Prof. Bonita Beatty is studying aboriginal political involvement.
Photograph by: Gord Waldner, The StarPhoenix
Voting is a political act, but so is protesting, joining a social media group or sharing moose meat with a neighbour, says the co-author of a new study on aboriginal political involvement.
The study can help explain the energy and motivation behind recent developments such as the Idle No More movement, said University of Saskatchewan native studies Prof. Bonita Beatty.
"We knew from this work that something was bubbling. We didn't know it would be called Idle No More, but we knew," Beatty said.
Beatty, U of S professors Loleen Berdahl and Greg Poelzer and the University of Winnipeg's Evelyn Peters surveyed more than 500 people and hosted focus groups in the northern half of the province beginning in 2010. The dialogue took place in Cree, Dene and English, as 85 per cent of residents are aboriginal.
The continued low voter turnout in federal and provincial elections was disappointing but not surprising, Beatty said. Less than half of respondents said they voted in the last federal election. Among those aged 18 to 29, turnout was self-reported at 18 per cent in the last provincial election and nine per cent in the last federal election.
Turnout among respondents was much higher - 69 per cent - in local band elections.
Beatty said northerners are engaged politically at the band level and in many other ways that don't always register in statistics. Nearly 80 per cent of respondents, for example, said they regularly share moose meat or fish with another household.
"That is unique. There are these other levels of engagement," she said. "It goes right to what politics should be - it should be about helping others, learning to live together."
More than 96 per cent rated as "very important" the need to protect and maintain traditional northern cultures and ways of life.
Partly because of the perceived threat to tradition, there is a growing interest in wider issues, even if it isn't yet reflected in voting rates or political party membership, she said. Facebook and other social media are connecting aboriginal youth and communities throughout the north. This informal aboriginal political culture, coupled with a growing sense of alienation and injustice, is giving energy to movements like Idle No More.
"When people's expectations are not met by the formal system - and if land, water and treaties are affected - it's going to come out somehow," she said.
Beatty said it's essential for political parties and governments to find ways to bring people out to vote, but there also needs to be a push in northern communities to become involved in the bigger campaigns.
"You have to work together and get in on the system that's making the decisions," she said.
The authors plan to take the study to La Ronge and Meadow Lake later this month to share with people from across the north.
There is also a plan to broadcast the study results throughout the north on the Missinipi Broadcasting Corporation radio station.
Lac La Ronge Chief Tammy Cook-Searson agrees there is a high level of local political activism. She described the long lines at polling stations for recent band elections, as well as the various elected councils and boards representing northern trappers, social services agencies and other bodies.
She agreed Facebook and other online resources are allowing individuals and groups to connect.
"Social media is changing things. People are getting educated about how things affect them."
© Copyright (c) The StarPhoenix