News
Howe report: Economist warns of social upheaval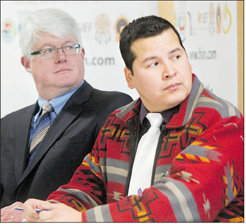 Economics professor Eric Howe's report, Employment of First Nations People: Saskatchewan Lags Behind, has been widely covered in the media (photo by Richard Marjan of The StarPhoenix):

The StarPhoenix, Jan.23:
Frank talk on jobs gap overdue
The StarPhoenix, Jan.22:
Gaps hinder First Nations
The StarPhoenix, Jan.22:
Native demands create dilemma
Gaps hinder First Nations
Economist warns of social upheaval
By Scott Larson And Joe Couture,
The StarPhoenix January 22, 2013
The greatest problems facing Saskatchewan today are the education and employment gaps of aboriginal people that, if not addressed, will lead to social upheaval, a University of Saskatchewan economist says.
"By the middle of this century Saskatchewan is going to be majority aboriginal," U of S economist Eric Howe said Monday in releasing a report with the Federation of Saskatchewan Indian Nations. "If the gap between education and the gap between employment aren't addressed, then they will result in social upheaval on a level that has not been seen in Saskatchewan since the Great Depression."
Howe's report - Employment of First Nations People: Saskatchewan Lags Behind - was commissioned by the FSIN and compares data from the 1996 and 2006 Canadian censuses.
The report shows educational levels of First Nations people are increasing, yet are still falling further behind the general population.
"In the 10 years between the censuses of 1996 and 2006, the percentage of Saskatchewan's First Nations people age 15 to 69 who do not have a high school diploma decreased from 65.7 per cent to 55.8 per cent," the report said.
But during the same period, education levels of the total population of Saskatchewan increased by an even greater percentage, with those aged 15 to 69 without a high school diploma dropping to 26.5 per cent from 40.7 per cent.
"We are doing a worse job of educating First Nations people in Saskatchewan than any province in Canada outside of the Maritimes," Howe said.
One basic key to address the problem is to fund education on reserves at the same level as the overall population, he said.
"We in Canada pay less to educate a First Nations kid living on-reserve than we do to educate a kid living off-reserve. Nobody can think that is a good idea," Howe said.
FSIN vice-chief for education Simon Bird said now is the time to invest in First Nations education.
"Why are our students having to choose from going to school in their own community to a school that is five kilometres or farther away with more to offer the students when we have the building and students ready to participate in the exact same education in their own backyard?" Bird said.
"If you don't have the proper tools, you are ill-equipped to go ahead and participate in an economy that demands an education."
Saskatchewan's employment record of First Nations people "is, frankly, appalling," Howe said, adding it is worse than Alberta or Manitoba.
The report says if Saskatchewan employed First Nations people at the same rate as the two neighbouring provinces, it would increase the province's GDP by $6.7 billion.
Policy changes by the provincial government have hampered aboriginal education and employment, Howe added.
"They did not cause the problem - they simply made the problem dramatically worse."
Howe said 2009 in particular "was a disaster for First Nations employment in Saskatchewan."
"In 12 months, one out of every four First Nations people who had a job in January of 2009 were unemployed by December of 2009," he said.
"You can only speculate what would have happened in Saskatchewan if that had happened to the non-aboriginal population. If a quarter of the people had lost their jobs in a single year, I think we probably would have had the Regina Riot again.
"We are talking of Great Depression kinds of things."
He said the province's decision to eliminate the Aboriginal Employment Development Program has hurt employment, as has changes to the immigrant nominee program to extend it to include unskilled workers.
Jim Reiter, minister of government relations and minister responsible for First Nations, Metis and northern affairs, defended cutting the AEDP program.
"We decided that a better use of resources, and frankly many more resources, would be to focus on education and specifically on skills training," Reiter said, adding at that time education spending for First Nation skills training was about $38 million and now it is about $47 million.
Reiter disagreed with Howe concerning changes to the immigrant nominee program.
"We have a big labour shortage in Saskatchewan right now and we need people to fill those positions," Reiter said. "While we need to do a lot of work in the aboriginal community to decrease the unemployment rate, there is jobs for both First Nations and immigrants as well."
NDP advanced education, employment and immigration critic Cam Broten said the report shows "the Sask. Party's actions over the past few years have had a negative effect on employment numbers for First Nations and Metis people, especially around the elimination of the aboriginal employment development program."
He wants to see the reinstatement of the AEDP and a greater focus on education.
"We will never be all that we can be as a province if we leave large swaths of our population behind," Broten said.
slarson @thestarphoenix.com
© Copyright (c) The StarPhoenix