News
Kristina (Fagan) Bidwell appointed Associate Dean, Aboriginal Affairs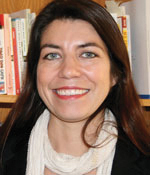 Kristina (Fagan) Bidwell, an associate professor in the Department of English and Assistant Dean, Aboriginal Affairs, has accepted a five-year term as the Associate Dean, Aboriginal Affairs, effective January 1, 2013. Bidwell is presently on a six-month sabbatical leave (from July 1–December 31) to work on her research programs with the aid of a SSHRC Public Outreach Dissemination (Aboriginal) grant. Responsibilities of the position will be shared by members of the Dean's Executive in her absence.

Bidwell is a member of NunatuKavut, the Labrador Metis Nation. She has been a faculty member in the Department of English since 2001 as an Aboriginal literature specialist and, in January 2011, she became Assistant Dean of Aboriginal Affairs.

Dean Peter Stoicheff and the Dean's Executive, with feedback from many others in the College, determined that a senior administrative position devoted to the College's many goals related to Aboriginal engagement was necessary. These decisions were forecast, as well, in the Aboriginal engagement section of the College's Third Integrated Plan as necessary for the College's success in that focal area.

Associate Dean Bidwell's priorities will be to build the various supports needed for Aboriginal student success and retention as identified in the College's Third Integrated Plan, and to ensure the College is aligned with the University's Aboriginal engagement goals. Bidwell has published numerous articles in her field, and she has a particular interest in early Aboriginal writers and in oral storytelling. Her current research, interdisciplinary in nature, is on Labrador Metis storytelling and its social functions within the community, work which is largely based on extensive fieldwork in Labrador.