J. W. T. Spinks Lecture Series
These annual lectures, established in 1975, recognize the many contributions Dr. J.W.T. Spinks made to his departments, the university, and the chemical professions, both nationally and internationally. As faculty member, Department Head, Dean of the College of Graduate Studies and Research, University President, and President Emeritus, Dr. Spinks was associated with our University from 1930 until his passing in 1997.
The lecture series brings to the University of Saskatchewan eminent scientists and engineers in the fields of chemistry and chemical engineering to deliver a series of lectures and to share their knowledge and experience with students and staff. This series is run jointly with the Department of Chemical Engineering, which hosts the Spinks lectures every third year.


2015-2016 Spinks Lecture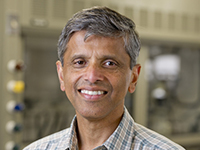 Dr. Prashant Kamat is a Rev. John A. Zahm, C.S.C., Professor of Science in the Department of Chemistry and Biochemistry and Radiation Laboratory at University of Notre Dame. He is also a Concurrent Professor in the Department of Chemical and Biomolecular Engineering.  He earned his doctoral degree (1979) in Physical Chemistry from the Bombay University, and postdoctoral research at Boston University (1979-1981) and University of Texas at Austin (1981-1983).  He joined Notre Dame in 1983. Professor Kamat has for nearly three decades worked to build bridges between physical chemistry and material science to develop advanced nanomaterials that promise cleaner and more efficient light energy conversion.
He has directed Department of Energy funded solar photochemistry research projects for the past 30 years.  In addition to large multidisciplinary research programs, he has actively worked with industry-sponsored research. He has served on many national panels on nanotechnology and energy conversion processes.  He has published more than 450 scientific papers that have been well received by the scientific community (45000+ citations). Thomson-Reuters has featured him as one of the most cited researchers in 2014 and 2015.  Please see Dr. Kamat's ResearcherID and Google Scholar pages for further information about his research. 
He is currently serving as the deputy editor of the Journal of Physical Chemistry Letters and is editor-in-chief of ACS Energy Letters. He is a member of the advisory board of several scientific journals (Research on Chemical Intermediates, Journal of Colloid & Interface Science, and Applied Electrochemistry).  He was awarded Honda-Fujishima Lectureship award by the Japanese Photochemical Society in 2006, CRSI medal by the Chemical Research Society of India in 2011 and Langmuir lectureship award in 2013. He is a Fellow of the Electrochemical Society (ECS), American Chemical Society (ACS) American Association for the Advancement of Science (AAAS) and Pravasi fellow of the Indian National Science Academy.  


General Lecture
Nanostructure Architectures for Light Energy Conversion
3:45 p.m., Thursday, 28 April, 2016
Room 107 Physics Building
Specialist Lecture
Beyond Plasmonics, Light Harvesting Properties of Metal Nanoparticles and Clusters
3:45 p.m., Friday, 29 April, 2016
Room 107 Physics Building

List of Chemistry Lecturers
2013-14

S. I. Stupp
Northwestern University

2010-11

I. Manners
University of Bristol, UK

2008-09

M. Lautens
University of Toronto

2007-08

S. G. Withers
University of British Columbia

2004-05

D. L. Boger
The Scripps Research Institute, La Jolla, CA, USA

2003-04

J. F. Stoddart
University of California, Los Angeles, CA, USA

2001-02

G.M. Whitesides
Harvard University

2000-01

P.B. Dervan
California Institute of Technology

1998-99

R. Breslow
Columbia University, NY, USA

1997-98

F.S. Rowland
University of California, Irvine, USA

1995-96

M.A. Fox
University of Texas, Austin, USA

1994-95

P. von Ragué Schleyer
Universität Erlangen, Germany

1992-93

B.E. Conway
University of Ottawa

1991-92

K. Mislow
Princeton University, USA

1989-90

A.K. Pikaev
Academy of Sciences, USSR

1988-89

P. Deslongchamps
University of Sherbrooke

1986-87

H. Taube
Stanford University, USA

1985-86

P.C. Lauterbur
University of Illinois, USA

1983-84

G. Herzberg
Herzberg Institute of Astrophysics
National Research Council of Canada

1982-83

G.A. Ozin
University of Toronto

1980-81

L.M. Dorfman
The Ohio State University, USA

1979-80

D. Phillips
Royal Institution of Great Britain

1978-79

H. Eyring
University of Utah, USA

1976-77

R.U. Lemieux
University of Alberta

1975-76

J.C. Polanyi
University of Toronto